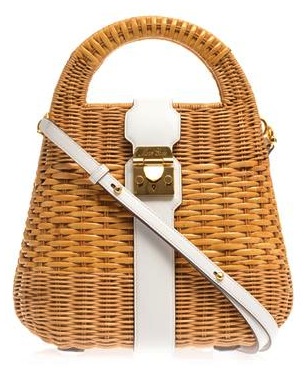 Both Tina and I are currently on a wicker kick (Tina's weave of choice is Dolce & Gabbana), and it's no coincidence. It's not even a matter of a new spring trend. It's all about the time of year. Nothing says summer quite like having a basket in your hand as you take a stroll in the sunshine.
Now I'm determined to get a jump on the season, thanks to Mark Cross' latest prim but not too proper creation. The Manray tote is fully structured, highly detailed, and about as beautiful as it gets. Because after all, it is Mark Cross. It's also impossibly classic. This could be from a different era entirely, except nothing says new and fresh like a band and strap of crisp bright white against a glossy weave of wicker.
If you think of this as a novelty bag, it feels like a big investment. But in reality, the Manray is straight-up investment-worthy. This is something you can pass down for generations. By the time this is old enough to be retro, it will make for a vintage piece that lets your kids know how cool you are. Mark Cross Manray at MATCHESFASHION.COM for $1,695.
Pair with: Neat and casually polished, Theory's pop-top sleeveless dress creates the illusion of a shirt-and-skirt pairing. In "uniform blue," it suits the throwback feel of a wicker tote. At Bergdorf Goodman for $315.
This post is also available in: Chinese (Simplified) Chinese (Traditional)