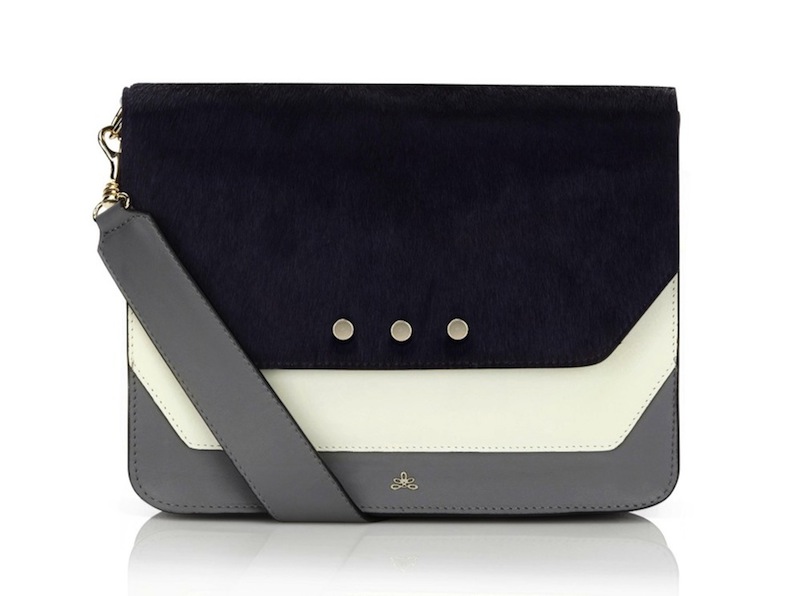 I'm so in love! Navy pony hair layered over blocks of gray and white isn't just unexpected, it's striking and deeply chic. We see more than our fair share of pony on a regular basis, so I've got to hand it to Milli Millu for coming up with such a unique incarnation. Navy blue looks as glossy as satin and exotic as anything I've seen.
Gorgeousness aside, as it goes with all of this brand's bags, the level of functionality is unparalleled. It's designed to happily hold your tablet or Kindle, if that's how you travel, and it also comes with a smartphone pocket and special compartment for makeup.
But you would never know it by looking. With pitch-perfect details and precise styling, especially thanks to the color-blocking, it's aesthetic perfection. The strap is long enough to go crossbody, while the solid structure keeps you looking sharp – this isn't your average schleppy messenger. It also works just as well as a shoulder bag or clutch. At Milli Millu for $542. Sold out now, with next delivery in April.
Pair with: Keep it cute and comfortable with Diane von Furstenberg's patent-leather wedge sandals. A tortoiseshell motif brings new dimension to the classic spring platform. At Saks Fifth Avenue for $375.