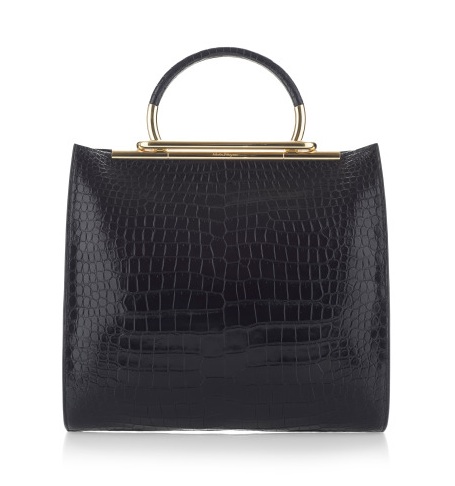 Excuse me! When did Ferragamo get this good? Actually, forget good. It really doesn't get much better than this, as far as I'm concerned. Even in the exclusive realm of major investment totes of the rare exotic persuasion. Salvatore just turned a corner; thanks to this deeply chic new design, I'll be keeping them at the top of my radar for the seasons to come.
An understated shape with crazy-amazing hardware closure and that rounded handle: this is everything. It's square but just slightly off-kilter, with a bit of puffed-out dimension and sharply turned-up edges at the top. The partial-circle top-handle is Ferragamo's signature, and I can't think of a better one; this is bold hardware done right. And then there's the versatility: you can fold the bag in half for an instant clutch style that's slick, not bulky.
Of course, the croc is obviously major, but the leather version happens to be just as good (and at a fraction of the price). I know they say good things come to those who wait, but there should be a limit on waiting. Thanks to Moda Operandi, this creation is available for pre-order, but don't expect delivery until October 15-November 25, 2014. It's a definite must-have for me, but I don't think I can wait this long! Salvatore Ferragamo Viola bag available on Moda Operandi in crocodile, $27,000, and in leather
, $2,450.
Pair with: Who cares? Just kidding, sort of. When you're bag is this stunning, you could roll out in yoga leggings and still put other snobs to shame. But don't do that. Tod's chain-trimmed Chelsea boots will make for nice monochrome-black action come autumn. On NET-A-PORTER for $875.