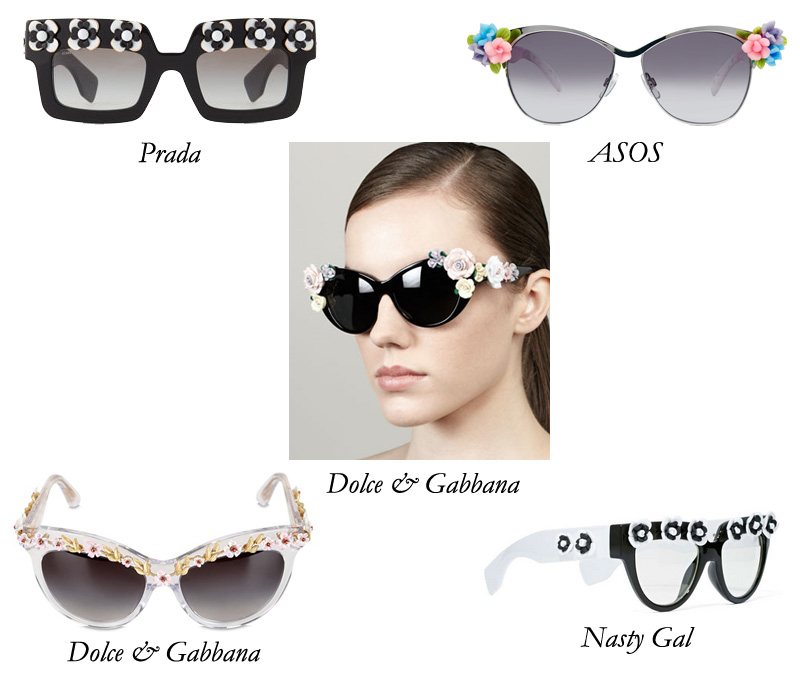 Florals aren't exactly the most original fashion motif come springtime, but we just can't resist! To think outside the flower box, wear yours on your sunglasses. Last year we were wide-eyed over Anna-Karin Karlsson's specs, and now we have even more options popping up for the new season (most of which are thankfully less expensive). If you're in a non-seasonal climate like I am, this is your way of seeing the buds blossom, so go ahead and pick the prettiest pair!
Prada Flower Square Sunglasses: Part Mod, part '60s flower child, this muted black and white shows that Prada knows how to do understated. At Bergdorf Goodman for $495.
ASOS Embellished Flower Detail Retro Sunglasses: Love these that we do, the style is always bought on a flirty whim, and if you don't want to wipe out your budget on a single pair of sunnies, ASOS has more than enough Frugal options to choose from. On ASOS for $33.87.
Dolce & Gabbana Roses Cat-Eye Sunglasses: This season D&G has the best and biggest blooms. These pastel confections look like they came straight off a birthday cake! At Bergdorf Goodman for $490.
Best Bud Glasses: If you tend to lose sunglasses, then don't feel pressured to spend the price of a bag to buy them. On Nasty Gal for $28.
Dolce & Gabbana Flowers Embellished Cat Eye Sunglasses: These delicate, hand-painted petals sit atop the edge of the rims like a crown of flowers. Exclusively at Luisa via Roma for $970.