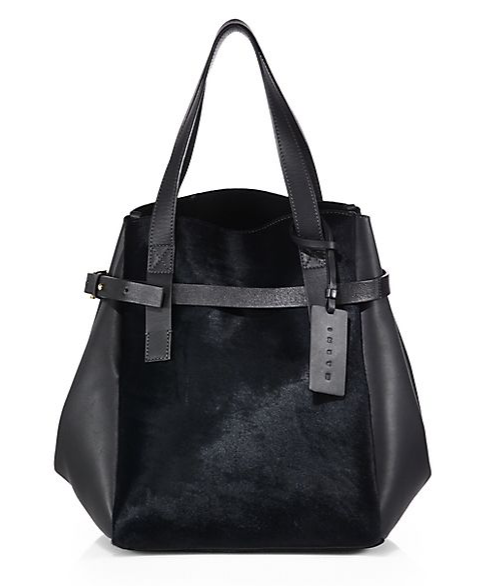 Just another bucket bag? Not so fast. A basic black tote? It's not that simple! Marni presents a wise variation on the bucket style that we've been seeing so much of lately, yet again. But unlike the typical hard-to-access, hand-biting bucket (I'm not big on drawstrings), this one opens up like a friendly tote. The bucket-style belt across the top is merely there for shapely effect. And better yet, it opens and expands really wide, thanks to the oversized gussets.
So yes, technically it's a shopper tote, but this hybrid design sports a shape so intriguing, it almost doesn't feel like a tote at all. Whatever it is, it works! Of course, an element of decadence always makes for a nice touch, but the infusion of calf hair is nearly unnecessary here. I don't feel like the soft leather bag needs any more frills, bells, or whistles to make me love it – but a little texture is always welcome. And so is a practical bag that manages to feel special. Marni bag at Saks Fifth Avenue
for $1,740.
Pair with: Take spring's balmy days in stride with a transitional raglan sweater, like Theory's ribbed knit in baby blue. The sweet shade makes a black bag look extra high-impact. On Shopbop
for $335.