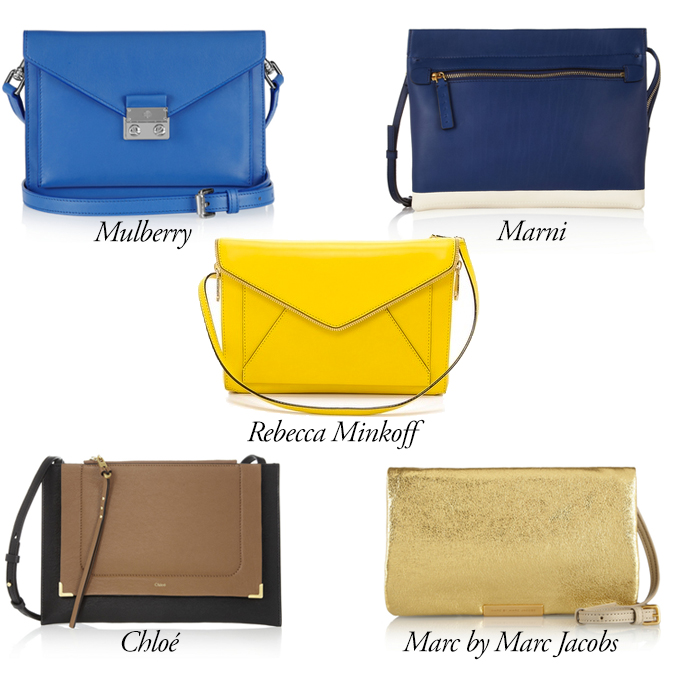 When it comes to the summer, I need two kinds of bags: I either require a really giant tote for travel, the beach, pool, and so on, or I just want a small, easy crossbody bag for strolling, sightseeing, and perusing museums. When it comes to scorching days, there is nothing more liberating than tossing on a super-lightweight crossbody that sits comfortably at your side, unnoticed by your shoulder, while receiving ample attention as the perfect accessory. Here, the best five in some of my favorite colors of the season:
1. Mulberry Kensai Leather Shoulder Bag:
 Blueberry fields forever! Say yes to a big, bright color on a slim body. Bonus: it doubles as an evening-appropriate clutch. On NET-A-PORTER for $1,600.
2. Marni Two-Tone Leather Shoulder Bag:
 This is colorblocking with a classy spin. A slick, natural silhouette is great for a bag with a hint of nautical charm. On NET-A-PORTER for $1,100.
3. Rebecca Minkoff Marlowe Bag:
 A perky bright is a fabulous way to punctuate a casual look, and this envelope style paves the way for maximum versatility. On Shopbop for $265.
4. Chloé Ghost Two-Tone Leather Shoulder Bag:
 The ultimate neutral, this is the only bag you'll need when you're on a trip. So if you're going for pragmatic, this is the winner. On NET-A-PORTER for $990.
5. Marc by Marc Jacobs Raveheart Metallic Leather Clutch:
 Clean yet cracked leather showcases metallic gold beautifully, and this one can easily travel from luncheons to weddings to Las Vegas nights. (The added security of an internal zip compartment makes a bag perfect for going everywhere.) On NET-A-PORTER for $240.