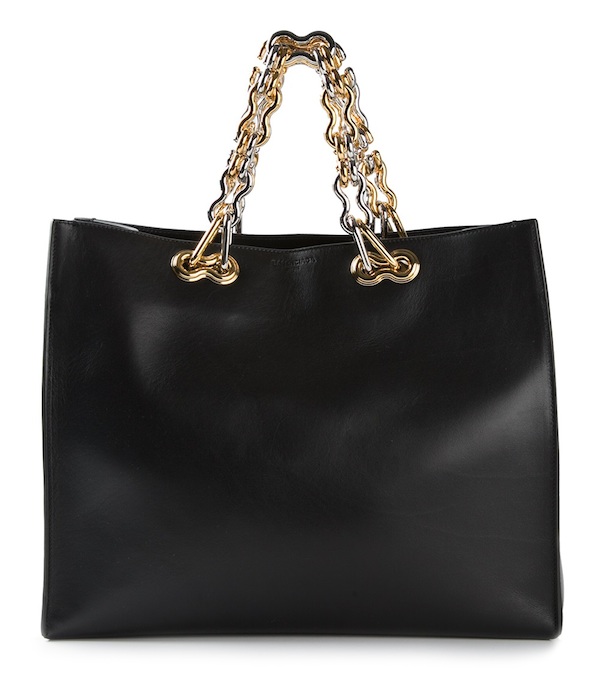 Fashion and function: the yin to the other's yang, they go together like bread and butter, like peanut butter and jelly, like  and Domenico Dolce & Stefano Gabbana. Except, when it comes to a pairing like peanut butter and jelly, you technically can enjoy one without the other (while it's tough to say how inspired the clothes would be if one half of D&G went at it alone, but I digress). When it comes to fashion and function, you really need both. Especially if you're talking tote bags.
When it comes to a simple tote with oversized chain-link handles, there's a definite cool factor at play. I respect Balenciaga's minimalist-meets-excess aesthetic (it brings to mind the glam style of the early nineties). But from a "functionality" point of view, this is a big bag that you just can't carry. Sure, it holds all your stuff and then some, but the super-chunky, massively bulky handle does not work. The chain looks great, glossy and unique, but it is just so heavy. Not to mention uncomfortable. Can you even imagine putting that on the crook of your arm? Ouch. Sorry, fashion. You're nothing without function. Balenciaga Classic Tote on Farfetch for $2,616.
Pair with: If you plan on keeping this on the seat next to you, whether at the restaurant or in the car, and not carrying it, I suggest bringing along a pouch that can do double duty as a clutch. Alaïa's croc-effect patent-leather pouch injects instant polish to your look, so you won't be too bummed to leave your tote behind. On NET-A-PORTER for $625.