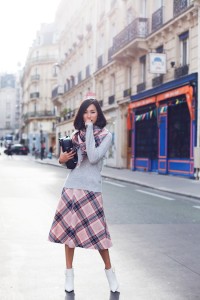 Nicole Warne is my style inspiration of the day because this skirt would look like a tablecloth on any other human. On Gary Pepper.
The #girlboss herself, Sophia Amoruso, sits down with The Cut to discuss her opinion on banning the word bossy.
This one's for you, packrats: Refinery29 shares a tip for shedding clutter.
One slouchy woman's experimentation with posture-correcting undergarments. On Into the Gloss.
Vogue's top 10 best dressed of the week—personally, I think Cara is the winner.
Apparently, just about anything can make you fat. In The Cut.
The Man Repeller's customized Marché is funky in all the right ways—and it will be available to purchase!
Photo Credit: Carin Olsson