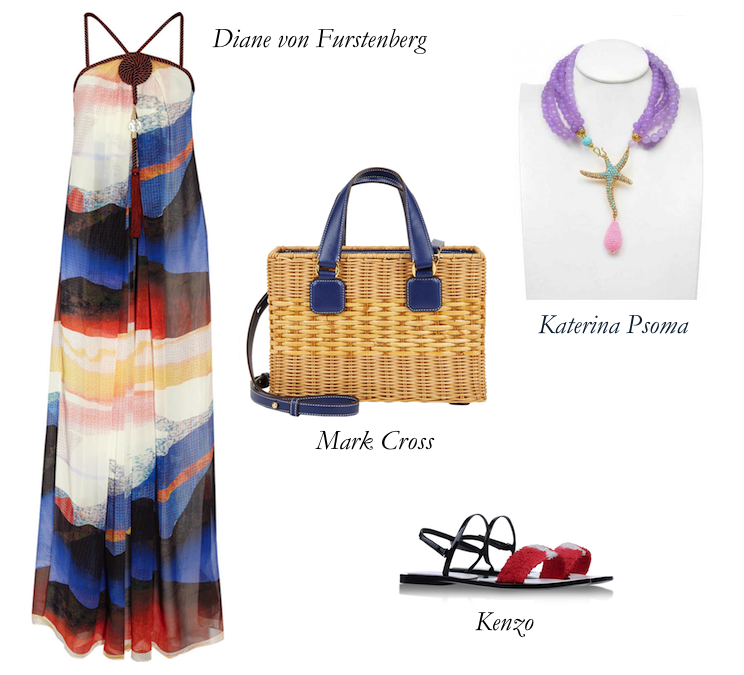 Summer is almost here! Is your beach body ready? Not quite? No matter – with the cascade of caftans and oversized jewelry coming out, the focus isn't going to be on your abs anyway! Gauzy wraps like this Theodora & Callum (on Shopbop for $195), colorful sandals, and a splash of maritime fun – that's what I want to stock my closet with. What's your favorite summer essential?
Diane von Furstenberg Teddy Printed Silk Chiffon Gown: A loose gown may wave around your curves like a cool ocean breeze, but DVF's print was actually inspired by the African planes…which just might inspire your next getaway! On NET-A-PORTER for $925.
Katerina Psoma Starfish Necklace: This starfish necklace will have you feeling like a mermaid out of water with handmade pastel beading that calls to mind cool dips in the Aegean sea, a beloved locale for the Greek designer. On Paire for $495.
Mark Cross Small Manray Rattan Tote: Though I long for straw-like sandals and bags, most of those satchels lack polish. For chic summer nights, stick with the elegance of Mark Cross. At Barneys New York for $1,695.
Kenzo Sandals: Don't let the Velcro fool you – these are some seriously nice sandals. Rather than black or nude, make red your neutral for summer! On shoescribe.com for $530.