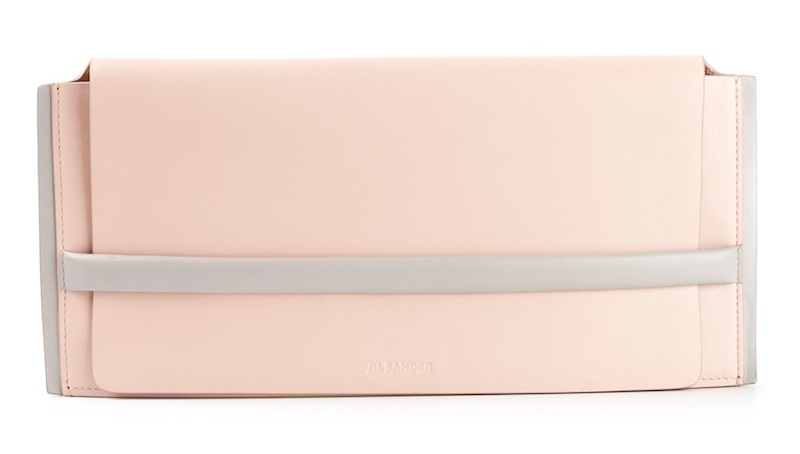 It's the palette that pulled me in: When it comes to this deceptively simple clutch, I'm more in love with the colors than anything else. I have to admit, the eighties girl in me is drawn to anything that combines pink and gray. But luckily, these soft, muted tones are way more tasteful than what we had back then (when pink was highly likely to come in "hot" form). There was nothing subtle about the eighties, the decade that welcomed Day Glo into the world. Freshly modernized, Jil Sander's take on the color combo is more of a blushing nude than a true pink-pink.
Gorgeously palatable hues aside, this easy, lush calf-leather clutch is beautiful, but it's also not without some issues. There is absolutely no structure to it, which is a problem for a clutch. This is a super-flat silhouette, so if you stuff it with necessities, you will rapidly distort the shape. It just might be worth taking it easy when carrying this clutch. The interior even delivers a gorgeous lining, in radiant gold. As it always goes with Jil Sander, the interior is as beautiful as the exterior, and every detail of construction amounts to perfection. Jil Sander clutch on Farfetch for $719.
Pair with: Keep it soft and easy with Halston Heritage's wrap-effect cocktail dress. In two shades of grayish taupe, satin and crepe takes on a lovely dimension. On NET-A-PORTER for $375.