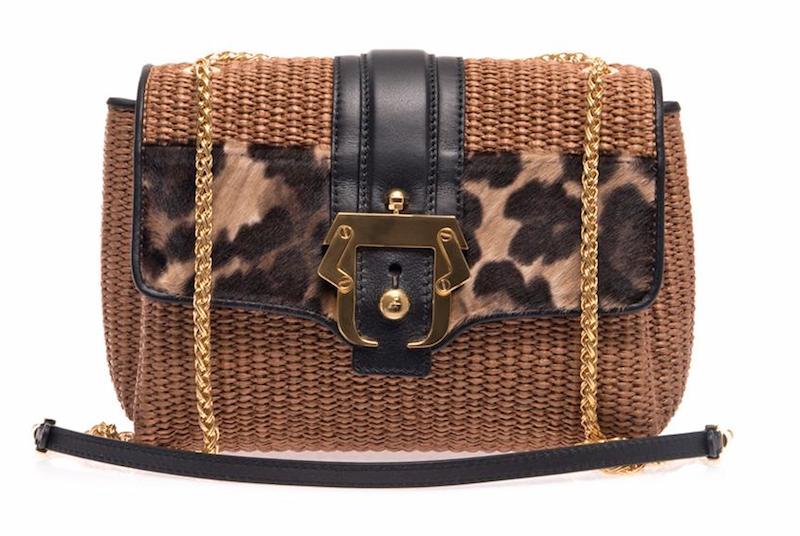 Summer: 'tis the season when the somber colors, serious textures, and far sterner silhouettes of fall are long forgotten (at least, until fashion week in September, that is). In their place, go-get-'em brights, textural mash-ups, and a flirtier way with just about everything.
Here's a perfectly cute bag for summer, the time when being slightly over-the-top is A-OK. Normally, you – and I – would say, "Thanks, but no thanks" to a straw bag topped with leopard accents, among other elements. But when the weather heats up and your senses are suddenly altered, you ought to let go of good sense and embrace it. Even if you complain about the raised temperatures all the while.
It's like those times when you go on vacation and get so entrenched in and enamored with the local culture, you buy things that look totally out of place back home. But does that stop you? It shouldn't! It's all about living in the moment, and Paula Cademartori's bag evokes the same kind of freewheeling feelings: it might be vaguely out of context, but it brings out adventurous emotions. And I'm all for that. On MATCHESFASHION.COM for $1,259.
Pair with: The chain-strapped Carine bag has a lot going on, so downplay it with a pair of light-wash jeans in a flared silhouette, like Frame Denim's Le High Flare pair. On NET-A-PORTER for $220.