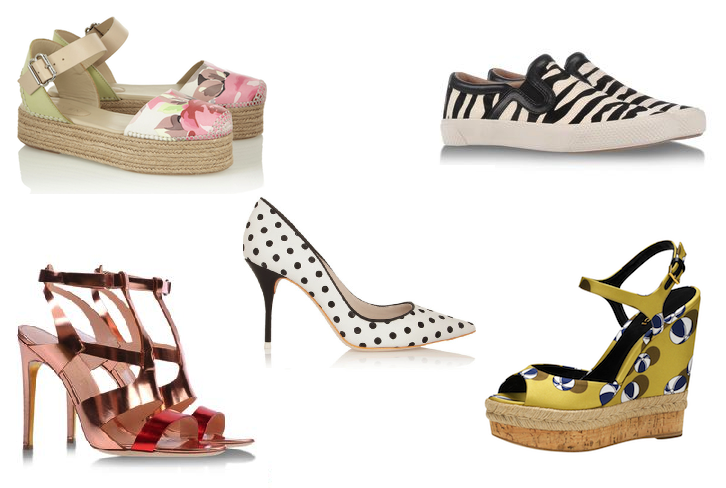 Unless you live in a warmer climate like Cali, you spend a nice chunk of the year unable to wear sandals, espadrilles, and other summer shoes. Now that the season is finally upon us, have fun with it! Playful beach ball prints, cork wedges…these are the types of pieces you want to indulge in. I've sorted all my favorite essentials into categories, a nice reminder of how to budget to get what we really need – and also want!
Daytime Flats
Carven Floral-Print Leather Espadrilles: Okay, not quite flats (3 inches, in fact), but the sole is flat so it's just about as comfy! On NET-A-PORTER for $450.
Sightseeing/Strolling
Rachel Zoe Low-Tops: Though zebra print is fun on its own, what I really love about it is that the monochrome style pairs so well with bright colors. On shoescribe.com for $176 (from $220).
Fun Work-to-Play Pumps
Sophia Webster Lola Polka-Dot Leather Pumps: Polka dots too childish? Nonsense! You can elevate the print for work, and then let Sophia Webster's trademark whimsicality shine come evening. On NET-A-PORTER for $400.
Evening
Rupert Sanderson Sandals: It's bound to be a red-hot summer, so you might as well sport similar sandals! The rose gold tint will glisten in the sun (or late-night lights) while the red serves as your requisite dose of summer color. On shoescribe.com for $945.
Daytime Wedges
Gucci Holli Printed Satin Wedge Sandal: Don't even think about coordinating your outfit with these. Just wear what you want and throw them one. They're those kind of shoes. At Bergdorf Goodman for $550.