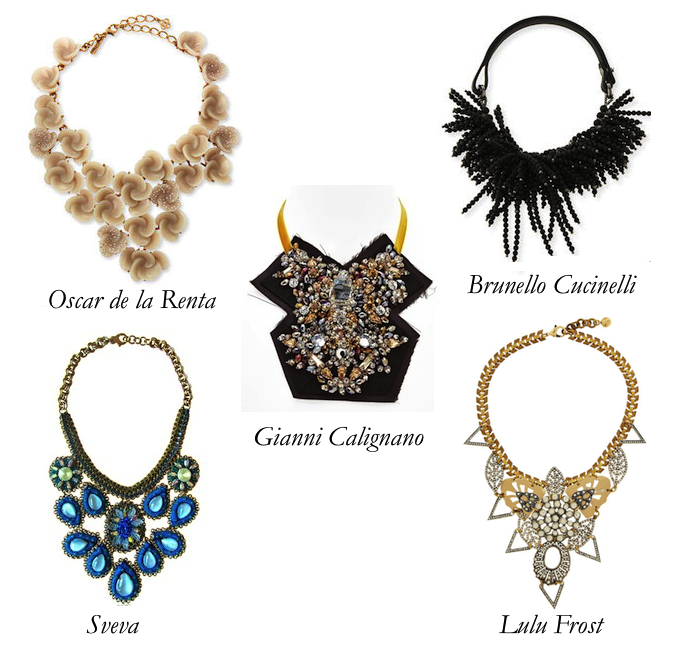 Put your dainty necklaces away for now. From brighter colors to bigger baubles, summer is all about excess. And with jeweled bibs as extravagant as these, the time it takes you to get ready each morning will diminish noticeably. One accessory and your outfit is made! Test this theory out for yourself – throw on your oldest jeans with a beat-up tee, and then top the look with one of these. Voilà! Instant glam.
Oscar de la Renta Flower Bib Necklace: When the light hits these resin flowers, an even greater sense of dimension is added to the almond-colored petals. At Neiman Marcus for $895.
Brunello Cucinelli Riverstone Beaded String-Cluster Chocker Necklace: For a less polished look, throw on this asymmetric assortment of black agate beads. At Neiman Marcus for $2,133.
Gianni Calignano Bronze Necklace: The most literal interpretation of "bib" in the lot and also the one with the most Swarovskis, beads, and natural stones. At Luisa via Roma for $1,021.
Sveva Cassiopia Necklace: Handmade in Italy by the designer herself using materials picked up at flea markets. The ocean blue beads are perfect when you want to accessorize during a seaside getaway – or at least pretend you're on a seaside getaway! At Luisa via Roma for $733.
Lulu Frost Gold-Plated Swarovski Crystal Necklace: A neutral, vintage-inspired piece like this will coordinate with almost everything in your closet, and just so happens to be the best-priced bib on the list. On NET-A-PORTER for $550.