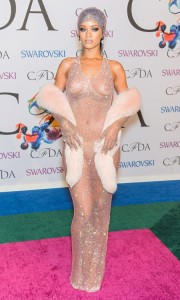 Rihanna wore a very see-through gown for the CFDA Awards last night, making the interaction between her and Anna Wintour very exciting. On Fashionista.
Kendall and Kylie Jenner are collaborating with PacSun just in time for summer. On Refinery29.
Speaking of summer, Into the Gloss gives us some simple workouts that only take seven minutes.
Elle Decor makes a lists of the best statement desks that will get you inspired.
In case you missed the Elvis collection at Opening Ceremony, you are going to need this sweater quick (before they're all gone!).
Photo Credit: Gilbert Carrasquillo/Getty