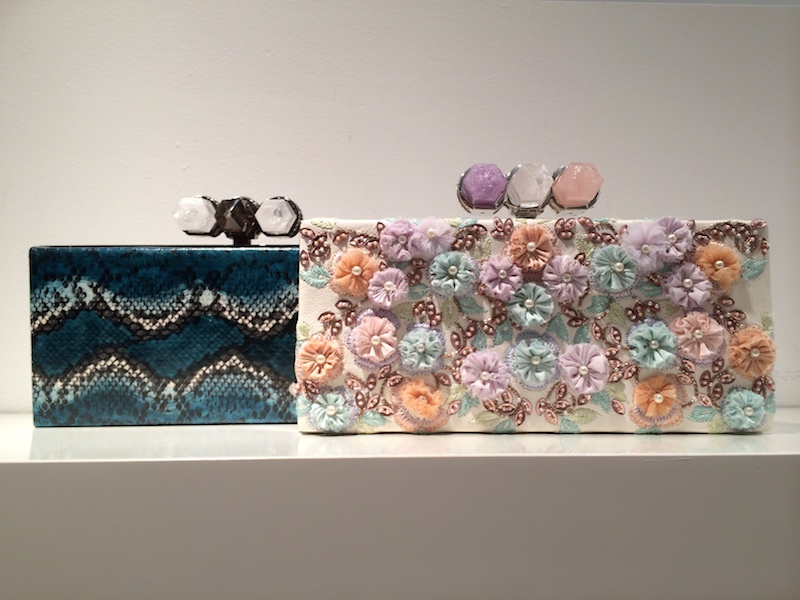 I went into the Marchesa showroom today to do some fashion-spying for Resort 2015, and I'm pleased to report that Georgina and Keren are – surprise! – not skimping on the glamour, not even close. These styles aren't set to ship until November 30th (which seems a seriously long way off), but for a sneak peek to get you excited early, here are three new styles for the new season.
You've already seen their minaudière topped with one dazzling crystal. Now they've amped up the closure on this popular style with a trifecta. Formally known as the India, it comes in sleek watersnake ($1,995), as well as an embroidered fabric version adorned with crazy-intricate floral appliqués (it costs $2,995, which sounds like a lot but each floral is handmade to the minutest detail).
I'm happy to see Marchesa's trademark crystal take the form of a turn-lock closure, far more secure than a magnetic one. The mini-Daphne (in shimmering gold watersnake for $2,695) can be worn as a shoulder bag or clutch. I love this classic, ladylike style, and now with angular seams and lines, it's appropriately updated.
Finally, this is not a new shape, but the treatment of the Valentina ($2,495) is so spectacular, I was riveted at first sight. Laser-cut with super-miniaturized beadwork, it's so gorgeous and epitomizes the kind of couture techniques of which we know the brand is capable.