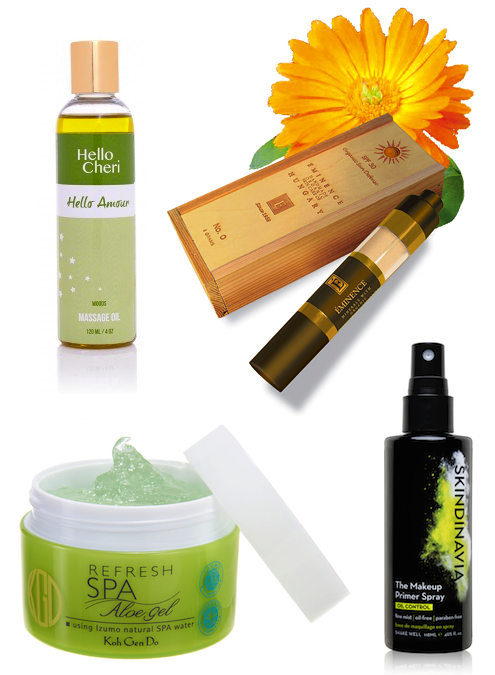 Between the heat and the rays from the sun, summer requires a different approach to beauty. You need protection, but still want to have fun! Here are my essentials to ensure that the season has just the right amount of hotness…
Hello Cheri Hello Amour Woods: Nothing's better on a warm night than getting cozy and sexy with your partner – spa treatments, moisturizing, and more 😉 On Hello Cheri for $16.95.
Eminence Sun Defense Minerals: This organic sun defense powder keeps you protected and matte at the same time using a non-clogging and hypoallergenic formula with SPF 30. You can carry it conveniently in your bag, and the best part? Each shade comes in a unique and wonderful scent! On Amazon.
Koh Gen Do All in One Refresh Gel: Put away the heavy creams and opt for this cooling Koh Gen Do aloe gel. It soothes, smoothes, moisturizes, repairs damaged cells, and promotes new cell growth. At Barneys New York for $38.
Skindinavia Makeup Primer Spray: And nothing's worse than being shiny all summer long! This primer spray will prevent your skin from getting oily, so you can just focus on looking cute for all those candid photos. On Skindinavia for $35 (4oz) and $49 (8oz).