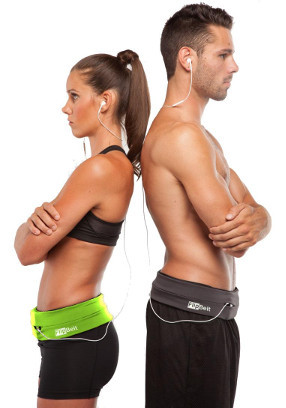 Once I got the FlipBelt, I had no idea how I ever lived without it. There never seem to be pockets in your workout clothes, whether you're a runner, biker, climber, or avid dog walker. It's hot, so you're not going to wear a jacket, and you don't want to carry a backpack just for keys and a phone. The FlipBelt is the perfect solution (and surprisingly simple – why didn't I think of this??).
The slim spandex belt has slit pockets to fit everything you need – even a little wallet! Once all your necessities are in place, you flip it around so that the openings are against your body to prevent items from falling out. The belt is stretchy, yet tight enough to make sure your things stay put (I got a medium, and the fit is pretty generous). Since the slits don't close, you can use your earphones while your phone is safe inside. You hardly notice the belt's there, and it certainly doesn't bounce around and hit you while you run.
There's also an elastic strap with a clip at the end for keys, but I use that to hook my dog leash so I can be hands-free when I'm out with my Pup Snob. The look is so streamlined, it just seems like part of my outfit – and with twelve color options, it's easy to coordinate with. If you're active, you really can't be without one of these. It's the best invention since Spandex! On Amazon for $24.99 – $59.99.