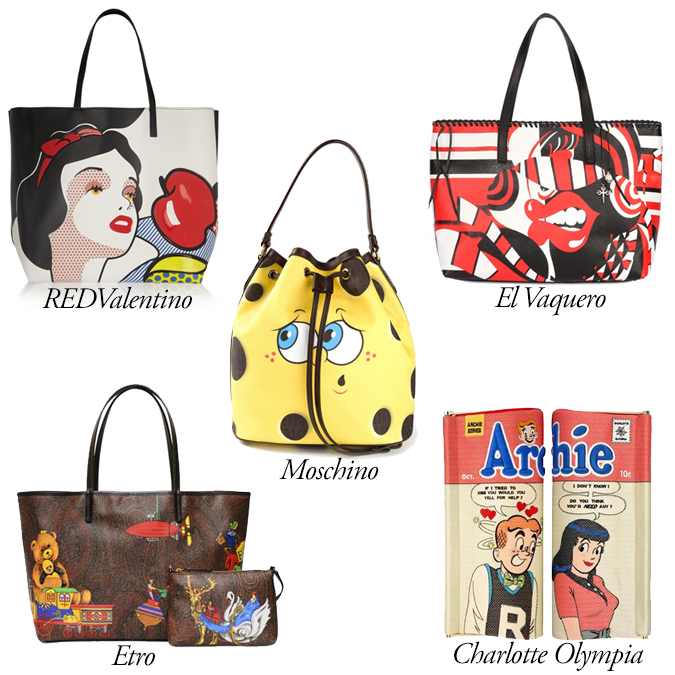 Calling all sci-fi fans and cartoon nerds! This kitschy bag trend is officially out of hand, but if there's any occasion where it's acceptable to whip out a Sponge Bob bag or an Archie and Veronica clutch, Comic-Con International is the place to do it. In honor of the convention taking place in San Diego this past week, here is a look at bags that are truly comical:
1. REDValentino Snow White Disney Leather Tote:
This one works because it straddles the lines between tacky and kitsch and cleverly nostalgic just right. In a large size, this is like a Roy Lichtenstein painting for your arm. On NET-A-PORTER for $650.
2. El Vaquero Waxed Graphic Printed Leather Tote Bag: Wild, wacky, and a little scary: this bold, enigmatic pattern is like a graphic noir novel gone abstract. Points for the whipstitched detailing along the top edge. On Luisa via Roma for $719.
3. Moschino Sponge Bob Duffel Bag:
Jeremy Scott at Moschino made a big splash with his McDonald's collection, so I shouldn't be surprised to see a Sponge Bob bucket…But being prepared doesn't make me cringe any less or make me run for the exit any slower. On Farfetch for $877.
4. Etro Medium Paisley Play Coated Canvas Tote: Unless your name is Mary Poppins or you're one of Santa's special helpers, I don't recommend carrying a tote emblazoned with children's toys. The paisley background somehow increases the creepiness factor. On Luisa via Roma for $720.
5. Charlotte Olympia Comic Clutch: Charlotte shines when she has fun while showing a bit of restraint. Like Valentino's Snow White, this works because it's a cute homage that's nicely executed. At Charlotte Olympia for $1,377.