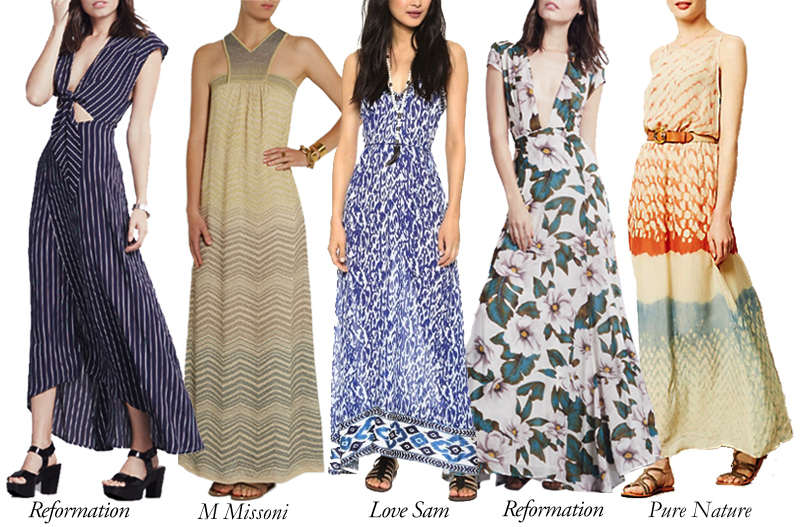 This week I'm beachside for my sister's wedding, and I packed maxi dresses for every occasion – the rehearsal dinner, brunch the morning after…even my maid of honor dress is a maxi! You can't beat the comfort and ease, but I'll be honest here – the #1 reason I wear them is for the slimming and elongating effect. Just throw on a few bangles and a necklace, and you're ready to go!
Reformation Desert Dress: It's called Desert for a reason. The cutout top and super high slit will keep you cool on the hottest of days (just don't forget to wear something underneath!). On Reformation for $258.
M Missoni Crochet-Knit Maxi Dress:
Missoni's signature chevron pattern looks understated in golden dégradé. On NET-A-PORTER for $1,195.
Love Sam Maxi Dress: Another reason I love maxis? They force you into wearing flats, and anytime there's an excuse for that, you've gotta take it! On Shopbop for $189.
Reformation Lumen Dress: A deep V-neck has never looked as sophisticated as it does on Reformation's sexy, floral dress. On Reformation for $288.
Pure Nature Sunfade Maxi Dress: I love to bring maxis on vacation. Even if the weather app on your phone gets the week all wrong, you can adapt quickly. The length will keep you warm on chilly nights when paired with a sweater, and on sweltering days, the loose fit prevents overheating. At Anthropologie for $298.