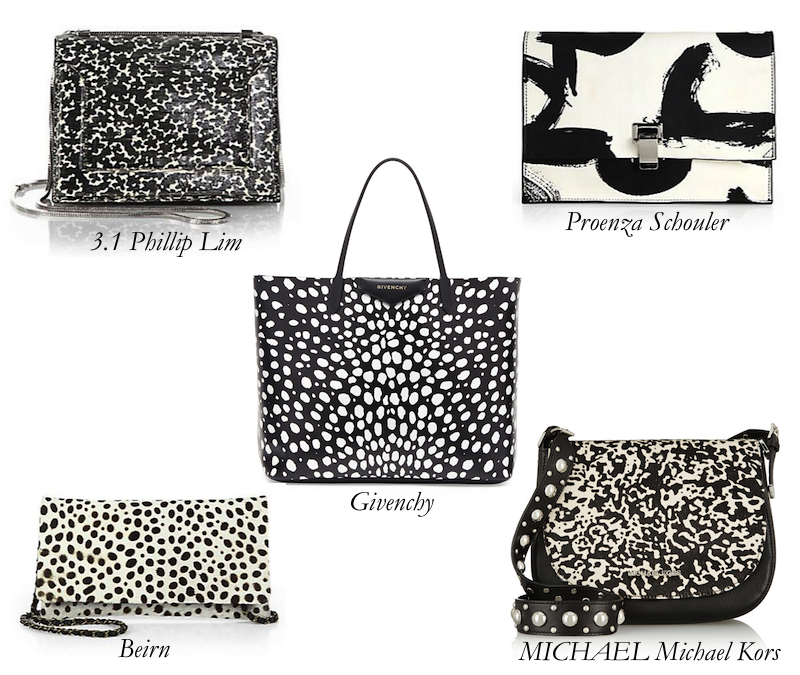 A printed bag in black and white may seem specific, but this is the most versatile color scheme you can ever find. The blend goes with any solids, and while it can get tricky when pulling in other patterns, as long as you have some color in the additional print, you've got a carefree effect – the kind you want when you're mixing prints. This breed of bag is the perfect pick-me-up when things get dull. There's no need to get complicated with an entire look. All you have to do is remember to look to your bag as your inspiration for making a statement.
1. 3.1 Phillip Lim Soleil Mini-Chain Shoulder Bag:
It's well-established that Phillip has a knack for combining the playful and the truly stylish, this funky print included. At Saks Fifth Avenue for $725.
2. Proenza Schouler Small Lunch Bag:
Bold, thick, painterly swipes and brushstrokes make the Lunch Bag feel fresh, not reheated, and the bright yellow lining makes a great complement. At Saks Fifth Avenue for $875.
3. Givenchy Antigona Large Spotted Shopper Bag:
 Trust me on this: a spotty, dotty take on the Antigona will become your next everyday staple. Available for pre-order at Neiman Marcus (expect shipping by November 7th).
4. Beirn Dyed Calf-Hair Convertible Wallet Clutch:
I spot something chic and minimal! Go light with this chain-strapped wallet-as-clutch. At Saks Fifth Avenue for $414.
5. Michael Michael Kors Heyes Printed Calf-Hair and Leather Shoulder Bag:
A Western-inspired shape plus a vivacious flap plus a studded strap plus a non-committal price equals lighthearted perfection. On NET-A-PORTER for $450.