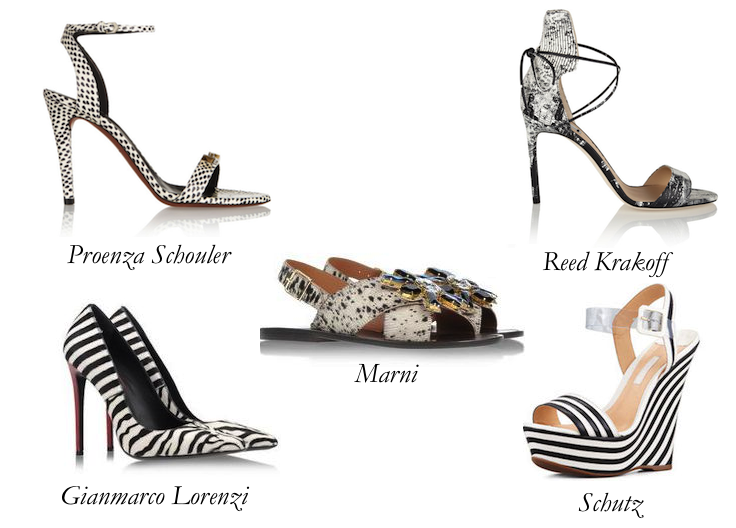 It may be summer, the time when we indulge in shock-and-awe neons and rainbow prints, but who needs color when you've got contrast? I was fixated on black and white bags earlier this week, and now I've moved on to shoes. Get the look in summery stripes, animal printed calf hair, or in my favorite form – the sale variety! How do you like your monochrome served?
Proenza Schouler Embellished Elaphe Sandals:
These sliver thin sandals play off the idea of polka dots, only instead of the youthful style, you have full-grown sophistication. On NET-A-PORTER for $795.
Marni Sandals: If printed calf hair isn't enough to appeal to your senses, oversized jewel embellishments just might do the trick! I love that this takes a traditionally fall/winter material and updates it for the warmer months. On shoescribe.com for $490.
Reed Krakoff Snake-Print Leather Sandals:
It's incredible what a couple of tie fastenings can do to the sex appeal of a shoe. On NET-A-PORTER for $795.
Gianmarco Lorenzi Closed Toe: A shot of ruby red via 4.5 inch heels shows how much more powerful color is when paired with black and white. On shoescribe.com for $655.
Schutz Erann Striped Leather Wedge:
Sailor striped wedges with clear ankle straps? These have everything you want in a summer shoe. The season may be halfway over, but that's why they're discounted! At Neiman Marcus for $182 (from $260).