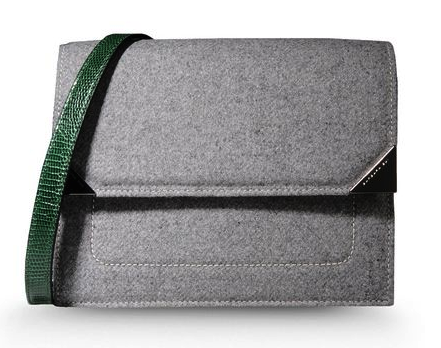 One word for Fall 2014: Felt. Well, let me put it this way. Céline is already doing it, so as if that doesn't solidify the trend, I'll reiterate: Barbara Bui has incorporated the once-humble fabric into an elevated level of perfection. The veteran brand, that's been effortlessly mastering Snobby "cool girl" staples for ages, really flaunts their ability here.
They have taken the most ordinary of materials – in neutral, almost average (albeit, lovely) gray, no less – and juxtaposed it against emerald-green lizard for an effect that instantly awakens all my senses and emotions. The magic isn't just in the mix of elements and tones.
Setting felt on a structured shape and quietly rigid silhouette takes it into luxurious territory, so much so the high price tag feels justified. Besides, when something is beautiful, you can almost always justify the price, and this bag is absolutely flawless. The only real downside is you're going to have to fight the temptation to wear flannel in August. Barbara Bui bag on thecorner.com
for $1,945.
Pair with: Think contrast, or at least something that's not in the category of felt or flannel. Proenza Schouler's flocked tweed shorts, with a pleated cut that tricks the eye into making you think this is a flirty skirt, will be one of your new statement staples. On NET-A-PORTER
for $1,050.