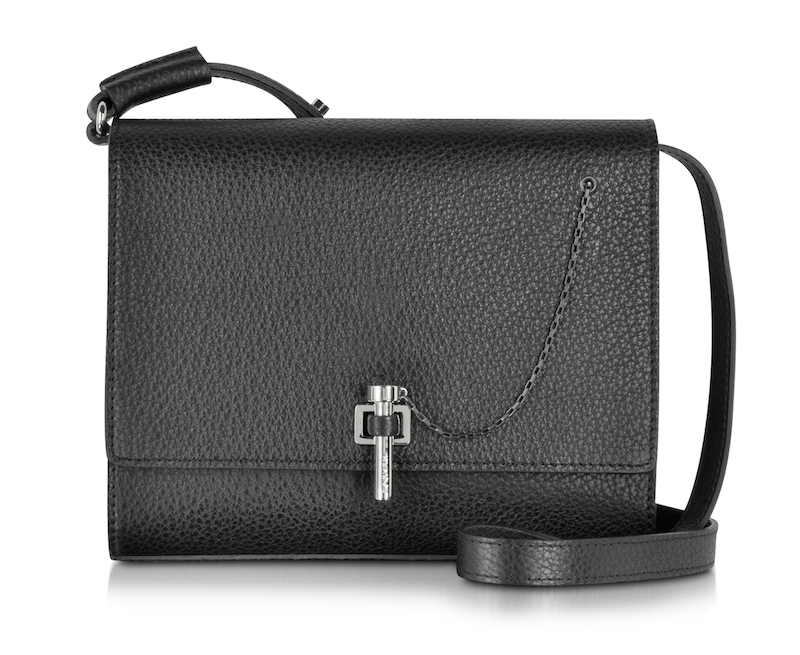 Disclaimer: I love Carven everything. Regardless, their bags have always lagged rather far behind the killer ready-to-wear and even the shoes for me. Until now. The Malher has piqued my interest, particularly in part to its great price point.
We all need at least one bag like this – versatile, black, and with a shoulder-to-crossbody option. As basic as that need is, we always require and appreciate a little extra perk that motivates us to commit. In Carven's case, it's the hardware that does it. The metal tab attached to a semi-dainty chain, dangling with just a touch of whimsy, adds up to the punctuation this otherwise minimal bag demands.
This is a signature detail seen on the entire Malher collection, but I vastly prefer the simplicity and ease of this style. There are fussy days, and then there are days I don't want to be bothered (guess which days are more frequent!). With grained leather, as indestructible as leather textures get, adding to the low-maintenance feel, this is the kind of bag that will get me through those days and then some. Carven black bag on Forzieri
for $490.
Pair with: There are also those days when you want to go incognito, and there's no better hat for the job than Rag & Bone's quintessential wide-brim fedora, now in navy blue. At Barneys New York
for $195.