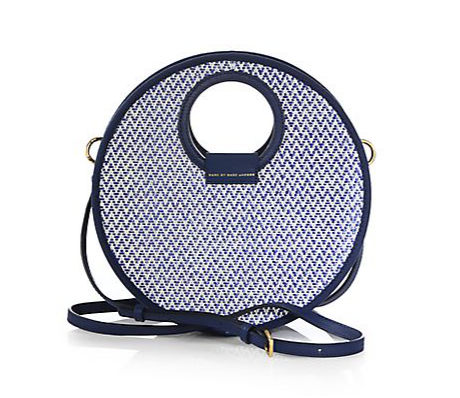 Don't let the fresh crop of fall goods already in stores fool you. We are still in the midst of summer (happily!), and that means it's not time to throw in the beach towel just yet. What I need now is an all-out fun bag, something non-committal and capricious that's not going to require a lot of thought or pondering. Especially since I'm going to Vegas next week.
What could be cuter than this perfectly circular MARC by Marc Jacobs bag during the day, especially keeping me company in my poolside cabana? Forget the crossbody option and forget the shoulder strap; it's ruining everything. Carrying it by the cutout-circle handle is the only way to go. Seasonal and super-specific, you say? The price is designed for specificity, so for under $200, woven navy and black straw and a playful shape feel just right.
It's so frugal, I won't even be crushed if it winds up doused in frozen margarita juice or warm Champagne. Not that I'm suggesting anything of the sort, nor that you should toss this once the weather cools. This classic piece is relevant every summer and sure to feel all anew each year. MARC by Marc Jacobs Isle de Sea bag at Saks Fifth Avenue
for $198.
Pair with: Go monochrome with Miguelina's Bridgette cover-up. With feminine flair and romantic lace cutouts, it's worthy of a casual dinner, post-pool time. On Shopbop for $410.