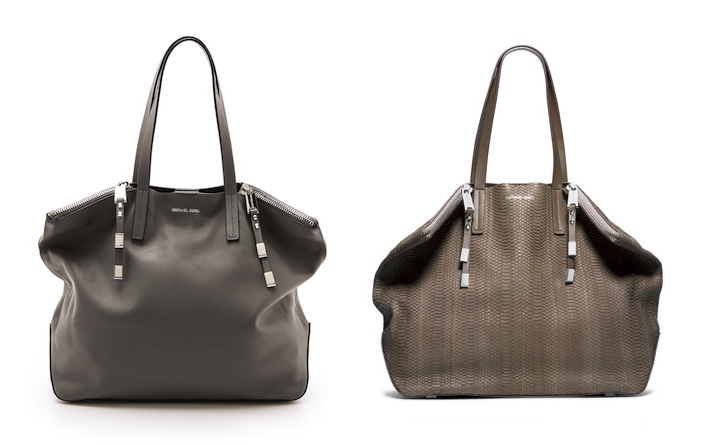 With MICHAEL Michael Kors becoming so ubiquitous (look around the mall or TSA line, and see how many you can spot), it has definitely chipped away at the luxury of the Michael Kors Collection. So be it, thinks Michael, as he checks the balance of his bank account. But I call it like I see it, and this is a great bag.
I recently helped my sister shop for something new, and this is what she ended up with. It has all the hallmarks of a long-term, investment-worthy buy, timeless and versatile – the gray is the cold concrete shade that works year-round, the convertible zippers add to the functionality, and the silhouette has just enough character to make a statement without wearing out its welcome. When you zip up the corners, you get a tall north-south shape, then with them undone, the corners flap down for a whole new look! And though I love the color as is, for a boost of luxury, the snake in shades of gray sets the heart on fire. Available at Michael Kors in watersnake
($1,595) and tan leather
($995), and on Shopbop in gray leather ($995).