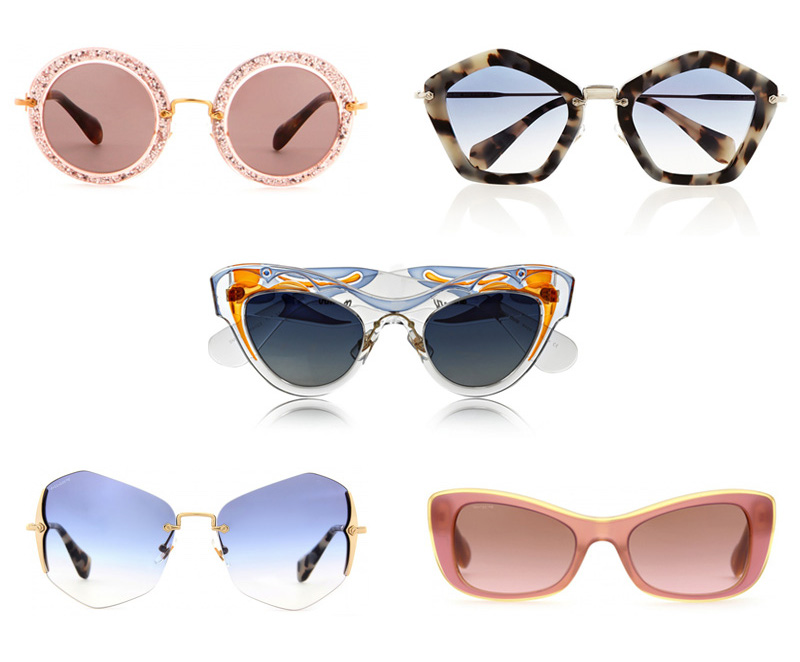 Circles, squares, pentagons, hexagons…there's a shape to flatter every face in Miu Miu's lighthearted sunglasses collection. Though there are crazier designs out there, I'd rather spend my money on fun styles that are also wearable. I can't decide which I love the most, but it's fun playing Elton John (who, of course, would get all of them) while narrowing down my choices.
Round-Frame Sunglasses:
Though not every face shape can pull off round frames, if you're one of the lucky ones, these glittery, pink-tinged lenses will be the girliest pair in your collection. On My Theresa for $399.
Tortoiseshell Acetate Sunglasses:
A geometric shape adds instant sophistication to any outfit. On NET-A-PORTER for $370.
Painted Cat Eye Acetate Sunglasses:
Miu Miu updates the classic cat eye with orange and blue rolling waves. On NET-A-PORTER for $370.
Hexagonal Sunglasses:
Yet, just as easily as they amp up the extra features, they can go sleek and minimal. On My Theresa for $318.
Square Frame Sunglasses:
If you can't raid mom's sunglasses collections, at least you can get the vintage look! On My Theresa for $233.
Pair with: Unlike the chain your grandma uses (you know the ones you see in the drugstore), Maria Black's spike-accented version doubles as a lariat necklace. On NET-A-PORTER
for $225.