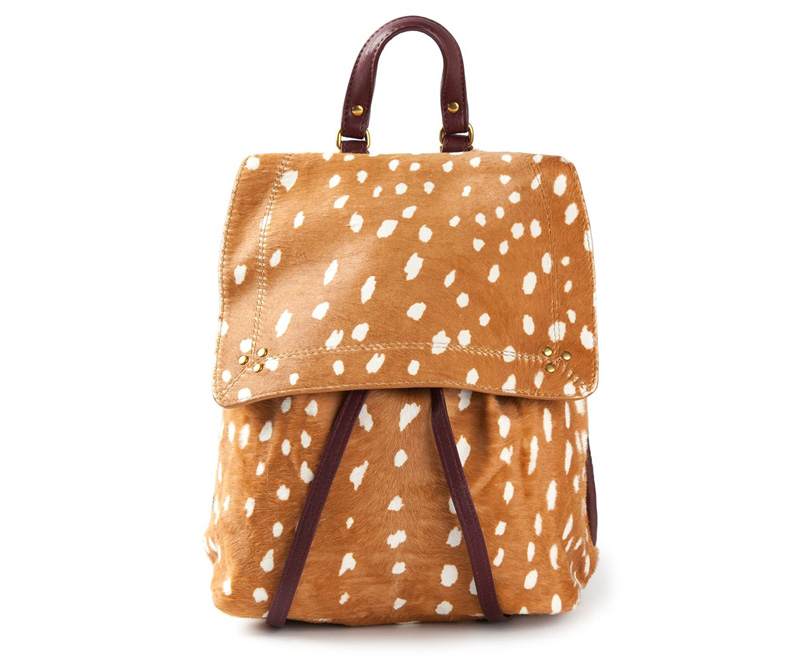 There's nothing like a good animal print to get your engines revved, so to speak, but once you've seen so much leopard and zebra season after season, it's hard for the standard exotic motifs to do the trick. Enter the Bambi effect.
I was already in love with Jérôme Dreyfuss' fawn print on calf hair, as originally spotted on the Eliot shoulder bag. But now my love knows no bounds. This easy backpack, in a more manageable, smaller size than most, is pure perfection for fall. Not only because it comes in crisp weather-ready calf hair, and not only because no matter how long it's been since you graduated from school of any kind, a backpack (especially this one in a scaled-down size that's not so small it's a "mini") feels so right this time of year. It's also because these soft, deliberately neutral, nature-inspired colors are perfect for pepping up the darker palettes you'll be wearing now. With cool leather-woven chain straps added to the mix, I've got nothing bad to say about this chic forest friend. Jérôme Dreyfuss Florent Backpack on Farfetch
for $1,294.
Pair with: Reveal you're really not afraid to show your spots with Sonia by Sonia Rykiel's embossed scuba-jersey mini-skirt in dark green polka dots. On NET-A-PORTER
for $335.