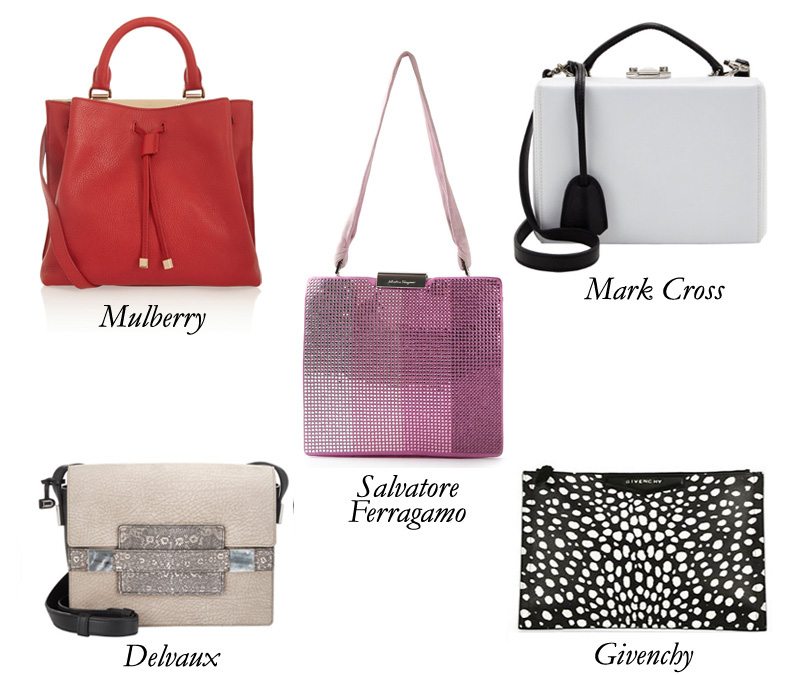 I had such a fun time today shopping for jewels and lunching with longtime girlfriends, along with a few new ones. I need these kinds of days; we all need these days, when we keep things light, let out steam about our husbands and kids, and get just plain silly. It's also always fun to see the great bags everyone is carrying, whether they're vintage, luxurious, or personality-driven.
It's not about the brands; it's the fascinating fact that what you to choose really reveals your fashion DNA. Girls are the ones who really care; men barely even register which bag you're holding. Which is why the ladies' lunch is the ideal venue for inviting your favorite new accessory. Now that I'm in the lunching mode, here are my top choices for playful, sophisticated, and on-trend bags that, most importantly, show your individual style.
1. Mulberry Kensington Small Textured-Leather Shoulder Bag: This coy, slouchy yet structured twist on the bucket trend is brilliant. The perky top handle keeps the mood ladylike, while rich red textured leather ensures all eyes are turned on you. Bonus points for the divided interior organization. On NET-A-PORTER for $2,500.
2. Mark Cross Small Grace Box: The Grace in mini form is as perfect as it gets for a girls' lunch. Happily, the classic yet modern palette of black on white ensures you won't get mistaken for packing your own picnic to the party. At Barneys New York for $2,195.
3. Salvatore Ferragamo Vintage Crystal Studded Clutch: Who says sparkle has to be reserved for after-dark? If the vintage realm is where you show your strength, this glittering Ferragamo creation will you put you at the top of the game for sure. The tonal, paneled pink-crystal studs are so good, I can hardly stand it. On Farfetch for $1,493.
4. Delvaux Madame PM: Let them drool over your Delvaux! This one's for those of you who want to go all out. That lizard trim with light-catching horn accents will make the strongest of Snobs swoon. It's definitely worth throwing down the $350 more for the exotic touches versus the all leather version. At Barneys New York for $4,350.
5. Givenchy Antigona Medium Spotted Saffiano Zip Pouch: Spot-on in more ways than one: for lunching, a day clutch that's not too fussy, like a cool pouch style, is best. This one has a high fun factor built right into the print. At Saks Fifth Avenue for $435.