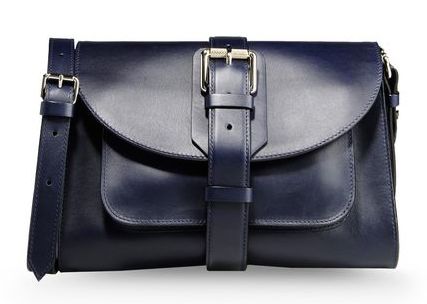 Still in keeping with their cool, closure-driven aesthetic, Jack and Lazaro's buckle bag is a great new addition for you diehard collectors of Proenza Schouler. Practical, this inky blue bag is, so don't let the buckle fool you into thinking it requires any fuss. No need for concern; it's magnetic and you can opt to tuck in the tab or leave it dangling, so you have easy access all around.
I also appreciate this bag for not being girly. The slightly masculine look feels so right. It poses a counterpoint to the recent influx of ladylike structure we've been seeing so much of, and it's always good to mix it up. I love vacillating from one style extreme to another between consecutive days. Swift style changes keep the blood flowing and make getting dressed exciting. As will this bag. Clearly, it's been made for function at the forefront, but there are so many ways to enliven it with your own spirit – and that's what I like about it. Proenza Schouler bag on thecorner.com
for $1,410.
Pair with: A strong statement necklace, like Balenciaga's bold silver Ligne Maillon collar, will instantly pump up the mood. At Barneys New York
for $695.