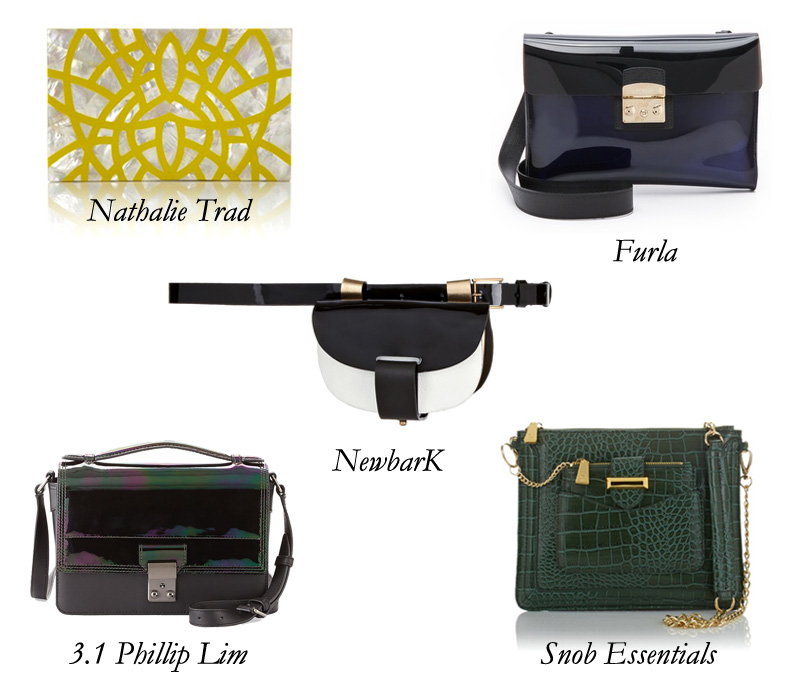 Not many of us look forward to rainy days, but rain is the downright scariest when you get caught in it with your most precious, softest lambskin bag in tow. Which is why you would never carry it out if there's the slightest chance of rain, right? You need some water-friendly bags as alternatives that won't go to ruin if they get wet. Here are some amazing options that will keep your mind at ease and bag intact, whether the forecast calls for a light shower or an all-day downpour.
1. Nathalie Trad Yellow Dysdera Clutch: When you still need to go out at night but know it's wise to leave your exotic and satin safely at home, this enlightening mix of mother of pearl and resin brings the sunshine. On Avenue 32 for $1,700.
2. Furla Candy Vanilla Medium Pouchette: Of course, you can go full waterproof with PVC. Furla's colorful Candy collection is fun in more ways than one. Go ahead and jump in that puddle! On Shopbop for $298.
3. NewbarK Leather Belt Bag: Or how about not worry about a bag at all? You have enough to deal with in inclement weather. This hands-free option is ultra-sleek, so don't even call it by the dreaded other F-word. On NET-A-PORTER for $990.
4. 3.1 Phillip Lim Pashli Mini Flap Messenger Bag: The crossbody is the ideal style to allow your hands to deal with your umbrella, and iridescent patent leather already reminds me of rain, oil-slick puddles, and rainbows, so it suits the mood. At Bergdorf Goodman for $925.
5. Snob Essentials Croco-Embossed Convertible Pouch: I have been loving this style and been using it to death. (Literally, I killed it in Japan when I decided to go down a giant slide, down the side of a hill, and got the chain caught on the railing. Luckily, my neck is still intact.) The crossbody style and slim silhouette are great for traveling or running errands, and that outer pouch is a dream for keeping subway cards and loose change for cabs. Our man-made leather is virtually indestructible and completely water-resistant. In fact, if you ever need to clean it, you can use a wet cloth to make it like new again. On HSN for $88.