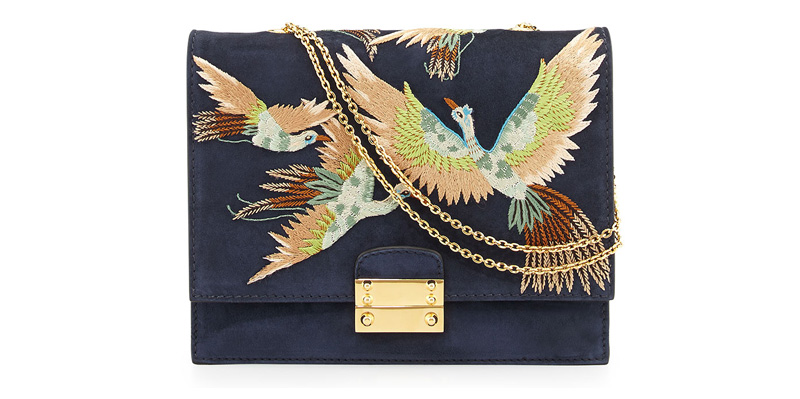 We've become so accustomed to the spectacular embroidery and detailing showcased on Maria Grazia's and Pierpaolo's epic dresses for Valentino, it shouldn't come as a surprise to see similar work on one of their bags. But that doesn't make taking a gander at this bag any less special. The workmanship is so beautiful, wearing this is like wearing a piece of art. And when you're not, you ought to put it in a glass box to keep on display; it's that amazing.
That's why I would be okay with a non-functioning bag this gorgeous, but that's not the case here. This suede shoulder bag comes with all the practical comforts I really appreciate, like multiple organizational compartments. Best of all, it comes with an optional suede shoulder strap, in case you're not in the mood for the look and feel of a chain (or wearing a tank top or spaghetti-strap dress). The chain doesn't detach, but you can tuck it inside and leave the remainder of the chain resting on top for added embellishment. These birdies definitely need some bling to complement their delicate embroidery. Valentino Bird Embroidered bag available for preorder at Bergdorf Goodman for $3,775 (expect delivery by November 7th).
Pair with: Nothing wrong with tossing a little costume bling into the mix. Layer Fallon's chunky Classique bracelet into your wrist's repertoire. At Barneys New York for $215.