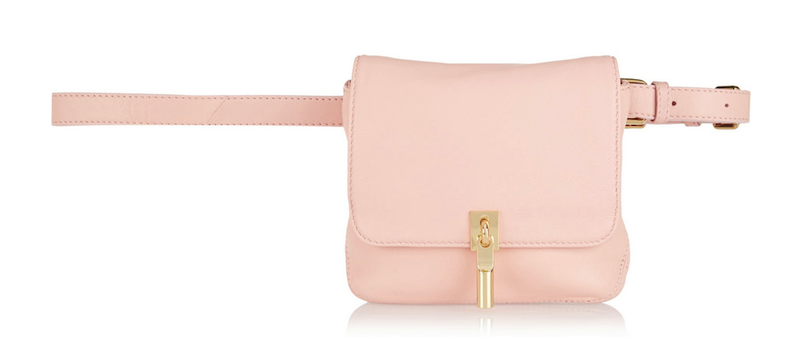 You gotta love a good belt bag. Emphasis on good. Not all or just any belt bag will do because when you're wearing your essentials around your waist, you can bet what's holding them needs to be stylish – and flattering, too. Elizabeth and James gets theirs right. The square shape of the pouch ensures it won't be mistaken for that dreaded old-school, kidney-shaped fanny pack, the one that instantly adds frump and dumpiness to any waistline.
A relatively thin and delicate belt strap, plus gold bar-inspired hardware (Elizabeth and James' signature punctuation as of late) drive the point home: the Cynnie is meant to be as sleek as possible, and it succeeds. When it comes to styling this baby-pink bag, go for all fitted or wear it with a loose top. Just remember that keeping your look tight on the bottom will reduce the feel of sloppiness. Skinny jeans or not, I can't wait to wear this to the next concert, dance party, or street fair I attend. Elizabeth and James Cynnie leather belt bag on NET-A-PORTER
for $245.
Pair with: It's a fact that you can't have too many black ankle boots, and when they're as simple yet stylish as Balenciaga's moderately heeled black leather pair, they're going to get plenty of wear. On My Theresa
for $1,025.