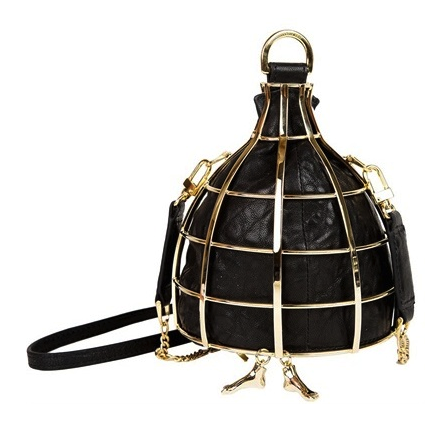 Conversation piece, anyone? This is such an undeniably weird bag, it would be altogether wrong if it didn't completely pique my interest. So mission accomplished, Ines Figaredo. You've got me looking!
The cage construction is definitely unique, especially in such a dramatic shape. But then you add dangling charms in the shape of feet to the bottom (which is also where the bag opens via a zipped closure, in case you were wondering), and the result is something worthy of discussion. Maybe even a study. Crinkly black nappa leather mellows the offbeat mood just a bit, and 18-karat gold-plated hardware lets it be known: this is meant to be a work of surreal art.
You want something for people to talk about? Carry this, and everyone will be asking about your bag, guaranteed. The attention may not be strictly positive, but at least you'll get points for being out there. Plus, Salvador Dalí would approve. On Luisa Via Roma
for $2,295.
Pair with: Wear a shoe that's too elaborate, and you'll look all-out kooky. A pair that lightly mimics the lines of a birdcage while remaining neutral, like Manolo Blahnik's Prodita Mary Jane pump, hits the right notes. At Bergdorf Goodman
for $845.