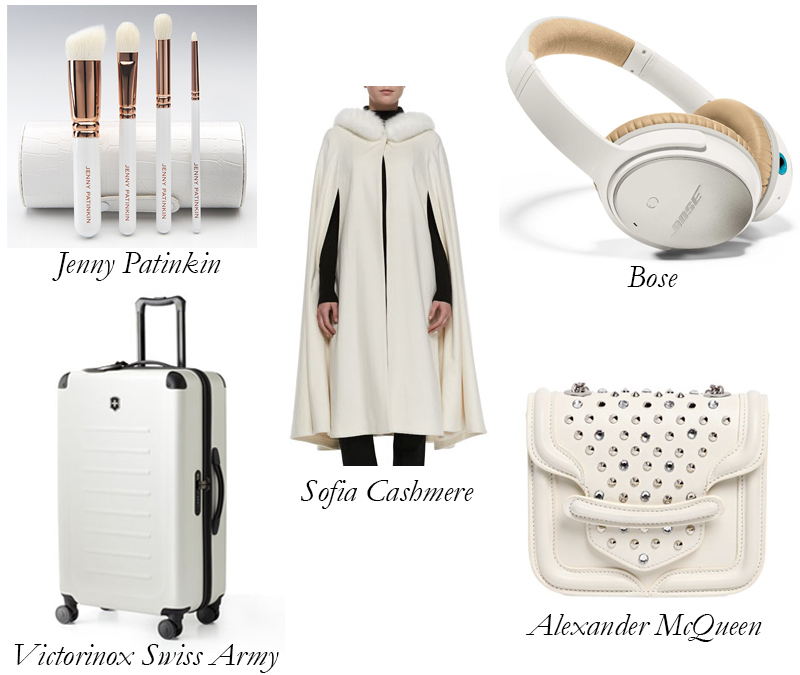 Bing Crosby fantasized about a white Christmas back in 1942, and some things never change. I can't speak for Bing, but I know I'm still hoping to see white come December 25th. But forget about powdery snowfall (that would be a true miracle where I am, anyway). I'll take the purest shade in a variety of other forms, thank you very much! Here are the white pieces I'm dreaming about this holiday season:
1. Jenny Patinkin Travel Brush Collection:
I have been loving and using Jenny's brushes for a while now, and nothing compares. I love the texture of her easy-to-use tools, and the accompanying travel tumbler design is genius. Now in all-white and rose gold, the kit strikes a whole new level of obsession for me. This is the perfect gift for the girl who has everything. On Amazon for $182.
2. Bose QuietComfort 25 Headphones:
I cannot tell you how these headphones have changed my life for the better. In fact, I am using my pair right now to drown out construction commotion from my upstairs neighbors. Did you know that airplane noise is so loud it can potentially damage your ear drums? I travel so much, this is more of a wise investment than a luxury, but luxury it is. Being able to drift into my own world, no matter the racket outside is true decadence for a mom! On Amazon for $299.
3. Victorinox Swiss Army Spectra Luggage:
White luggage is always tempting but rarely a smart decision. Until now. The only way to have a white suitcase, without cursing yourself off the airplane and well past baggage claim, is to opt for a piece with an indestructible hard case like this pearly collection, which promises to remain dirt-free. At Neiman Marcus for $350-$400 (on sale from $586-$670).
4. Sofia Cashmere Long Cape with Fox Fur Trim:
You wouldn't necessarily think so, but this decadent cape makes a great travel companion. The flowing, sleeve-free style makes it easy to toss on over any outfit, and once you do, it's like having the most luxurious blanket with you. Plus, you instantly look like Elsa in her winter wonderland. At Neiman Marcus for $2,495.
5. Alexander McQueen Mini Heroine Embellished Leather Bag: White sparkle on white leather is a win-win! An adorably sized bag decked with overzealous embellishments is flawless in the cleanest, palest color. The result is sparking winter-white perfection. On Luisa via Roma for $1,645.