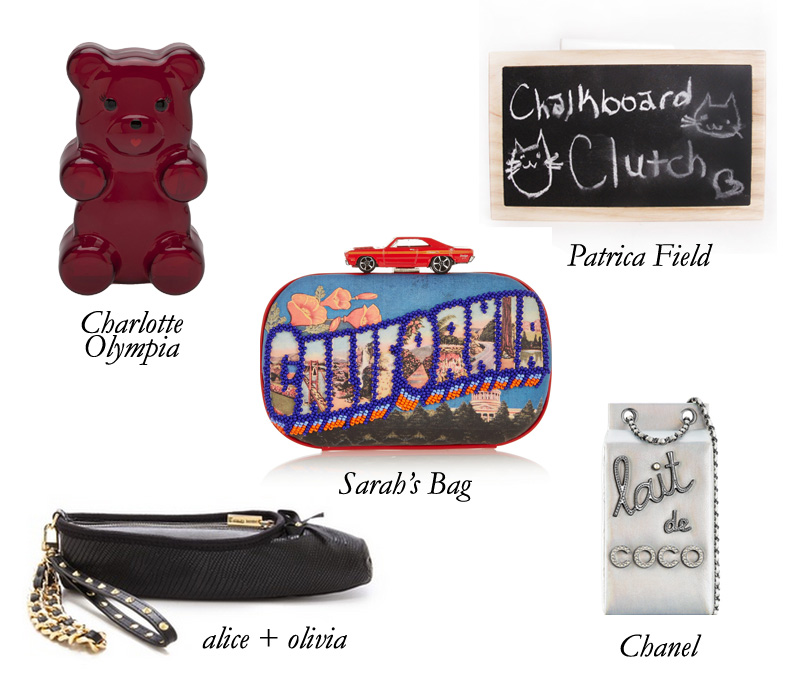 Not sure what to get the Zooey Deschanel in your life? Whimsy-infused clutches make cute gifts for girls with the personalities to match, and some are even marked down right now (no real surprise there)! On the other hand, there are bags that require investments so steep they take the fun out of it. I don't know about you, but I won't be making room in my fridge for Chanel's $5K milk carton. If the price of these clutches are right, though, go ahead and get zany. Kooky to the point of kitsch is just what the holiday season calls for!
1. Charlotte Olympia Gummy Bear Clutch: This heart-lipped gummy offers all of the sweetness without any of the calories; it's a fashion's girl's dream. On Farfetch for $1,873.15.
2. Patricia Field Chalkboard Clutch: And you thought you left the chalkboards back in elementary school! Take Ms. Field's mini bag out to dinner with girlfriends and have a laugh writing messages to each other. At Patricia Field for $170 (from $340).
3. FINDS + Sarah's Bag Fast and the Fabulous Embellished Cotton Clutch: This Beirut-born designer's beaded, car-accented clutches would turn even Charlotte Dellal's head. On NET-A-PORTER for $630 (from $1,050).
4. alice + olivia Ballet Shoe Pouch: A sweet, little treat for your ballerina niece! She can even take the wristlet off and use the pouch as a pen case. On Shopbop for $150.
5. Chanel Milk Box-Shaped Minaudiere: I feel safe saying that this is the most expensive milk ever. The question is, will it go sour once Karl puts out his next street style sensation? At Chanel for $4,800.