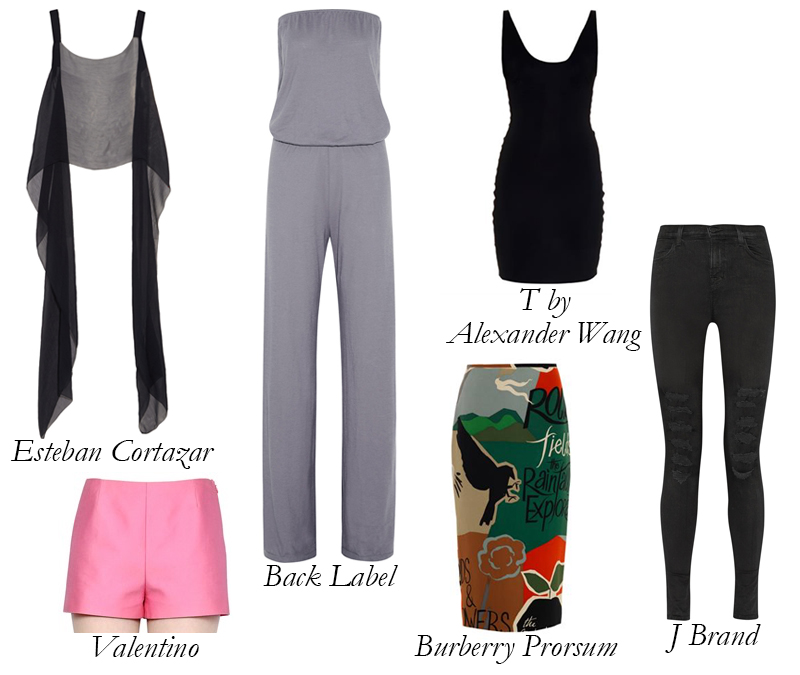 Sometimes you see something fab, but then again, you feel like it's probably way too specific to make it a reality in your life. Take Esteban Cortazar's cape-like, flowing chiffon top: When you first see it, you might think "one-night stand," but this is a piece that's down for some commitment. To prove its date-ability, here are five looks that not only change up the feel entirely but ensure this top is your best investment of the season. On NET-A-PORTER
for $730.
Bonus: When it comes to wearing it with pants, shorts, or a skirt, Esteban Cortazar's satin-piqué bodysuit will come in handy. On NET-A-PORTER for $695.
1. Valentino Techno Scuba Shorts: Feeling saucy? Flaunt your mood with a pair of bubblegum hot pants. Navy and pink is a winning pairing, and this outfit exudes the carefree attitude that comes with spring's first hot night. On Luisa via Roma, it's $690.
2. Back Label Strapless Jersey Jumpsuit:
Go for easy movement. This fluid jumpsuit look will have you channeling your inner Jerry Hall, complete with bare shoulders. On NET-A-PORTER for $285.
3. Burberry Prorsum Poet-Print Silk Pencil Skirt: Go for gallery-girl chic with this wildly print pencil skirt. The pattern is clearly striking, while the lean silhouette makes way for plenty of breezy chiffon. On MATCHESFASHION.com for $1,060.
4. T by Alexander Wang Stretch-Nylon Fitted Dress:
Keep it simple with a LBD, then you don't have to worry about revealing the top's the camisole (or bodysuit) underneath. Plus, the scoop-neck cut is universally flattering. On NET-A-PORTER for $395.
5. J Brand Maria Distressed High-Rise Skinny Jeans:
Pull on a pair of super-slinky, beaten jeans, along with a black tee, and bam! You are ready to rock out. On NET-A-PORTER for $200.