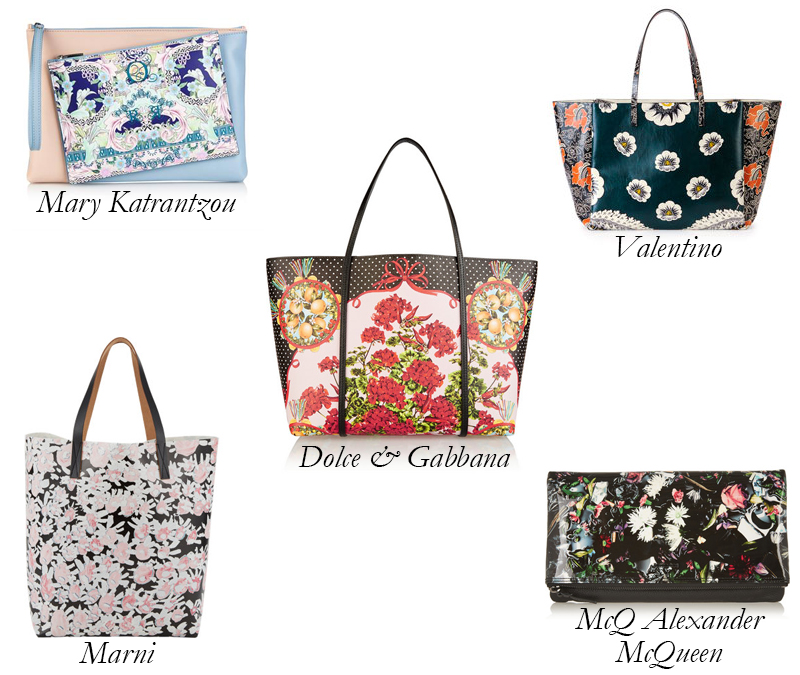 Here's a trend I can fully commit to! I love print and while I usually don't like wallpaper florals, what appeals is all about timing. And right now this look just feels right. Speaking of timing, spring is the annual age of newness, so consider opting for something that's out of your comfort zone. Find the new you! Whether you love patterns of the bright, fairy-tale variety or ones that leans towards the moody and dark, there are floral bags to satisfy everyone.
1. Mary Katrantzou Rose Garden-Print Detachable Leather Clutch: No surprise, mix-maven Mary has an otherworldly way with the flower-garden motif. Even better, this clutch splits into two, so technically you can wear it three ways. On MATCHESFASHION.com for $800.
2. Valentino Covered Mixed Floral-Print Tote Bag: Valentino has taken their incredible way with embroidery and translated into to a mixed-up print that elevates the everyday shopper. Available for pre-order at Bergdorf Goodman for $3,545 (expect shipping by May 7th).
3. McQ Alexander McQueen Floral-Print and Textured-Leather Clutch: If you lean more towards biker boots than dainty pumps, then McQ's badass digitized floral print is the one for you. On NET-A-PORTER for $725.
4. Dolce & Gabbana Escape Medium Printed Textured-Leather Tote: Sometimes this duo's humor-infused flair for whimsy really works, and this elaborately print tote is a glowing example. On NET-A-PORTER for $1,895.
5. Marni Floral Tote: Sweet but not too sweet, perfectly simple and pared down, and more neutral than you might imagine, this shopper is an easy decision. At Barneys New York for $400.