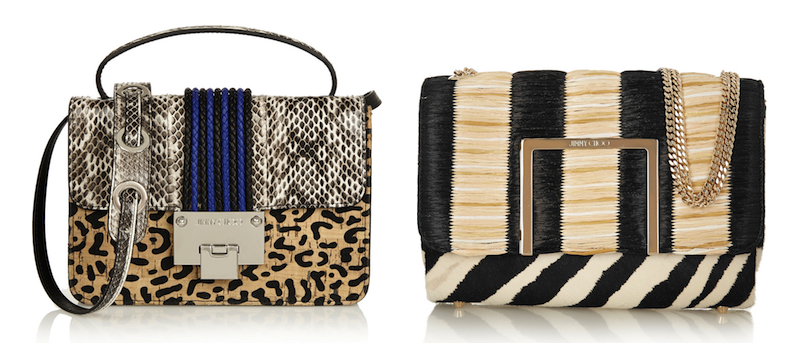 Feeling frisky? We all need to let loose every now and then, or we at least crave a bag that knows how to have a little fun on our behalf. Jimmy Choo is feeling the mood right now, as exhibited by two of their new shoulder bags.
Don't think a wild side necessarily has to come with zany colors or all that kitsch we're getting so accustomed to as of late. The Rebel and Alba are full of flavor, but think sexy spice, not sugar rush.
Cork coated with leopard-print, laser-cut mesh plus an elaphe-skin flap topped with woven leather piping: the cocktail comprising the aptly named Rebel sounds like recipe for an eyesore, but this mix really works. Black suede gussets and a generally neutral palette keep it grounded. If something a touch more elegant speaks to you, the Alba delivers vacation-worthy exoticism with a distinctly uptown-girl vibe. Inspired by Africa's Kalahari Desert, zebra-print calf hair and striped raffia make for a surprisingly harmonious union. Jimmy Choo Rebel
, $1,595, and Alba
, $2,250, shoulder bags, both available on NET-A-PORTER.
Pair with: Nuanced and strong, Altuzarra's Goliath pumps, in pure ivory leather, are a brilliant compromise between gladiator sandal and almond-toed ankle boot. On My Theresa
for $1,295.