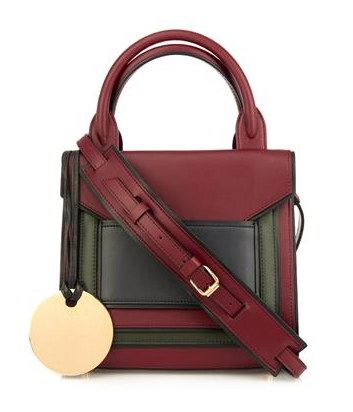 While it's easy to get caught up in the new softer textures and pastel-pale palettes of spring, let's not forget, it's still prime shopping time for the end-of-season sales. Just look at this delectable piece of arm candy from Pierre Hardy, now a full 50% off. The colors, a blend of wine red, forest green, and navy blue, may be all about fall, but you can still wear them into the balmier days of early spring.
Besides, it has all the elements I love in a bag – a boxy shape, great colorblocked combo, and perfectly smallish size – that will last for seasons to come. While useful, the big, buckle-accented shoulder strap sort of gets in the way. You have to look at the bag without it to fully appreciate the impeccable proportions and balance of the details. And there's one major detail that makes this a must-have: the pull-tab closure is a Hardy signature, but setting it in an exaggerated size changes everything. It's now super-adorable and lust-worthy. Pierre Hardy bag on MATCHESFASHION.com
for $1,078 (from $2,156).
Pair with: Make the seasonal transition with a relaxed trench coat. Tibi's navy cotton jacket possesses the right qualities to be a long-term staple. On Shopbop for $675.