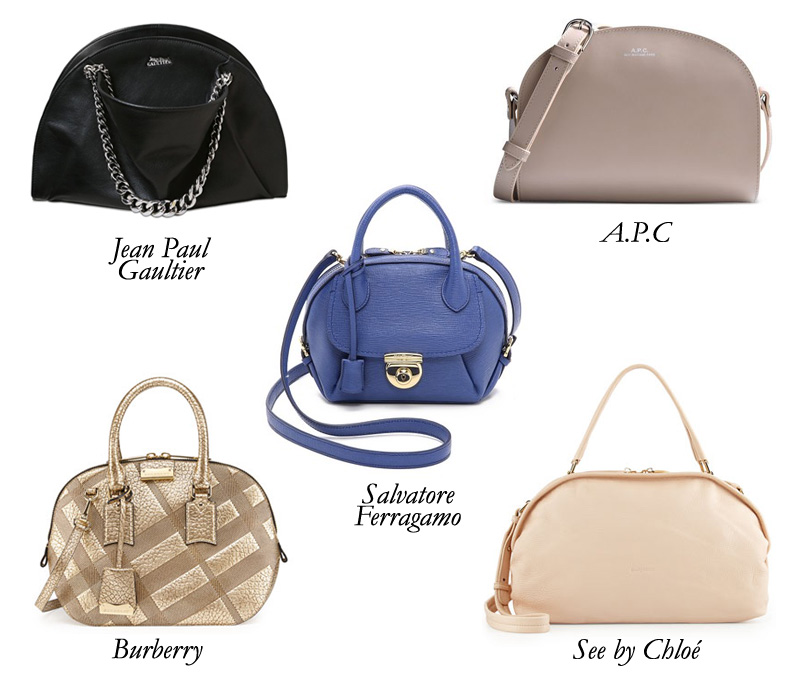 For every action, there's an equal and opposite reaction. So with the recent onslaught of hard, unyielding bags, you can bet there's a slew of softer options to even things out. Here it is: the counter movement to the recent structured bag obsession. The latest extremely rounded shapes (not to be confused with circular silhouettes) are cute and casual, exuding a carefree vibe – and they'll likely inspire you to do the same.
1. Jean Paul Gaultier Brushed Leather Shoulder Bag: Those of you who demand a hard attitude with your curved bag, look no further than this chain-linked number. On Luisa via Roma for $1,150.
2. A.P.C. Medium Leather Bag: A.P.C. is where it's at for easily achieving coo, French girl style. As minimal as can be, this will go with every laidback outfit in your daily wardrobe. On thecorner.com for $420.
3. Salvatore Ferragamo Fiamma Bag: With ladylike details and an adorably small size, this Ferragamo signature is the most polished of the bunch. On Shopbop for $1,750.
4. Burberry Check-Embossed Leather Satchel Bag: You heard it here first: Burberry's plaid is making a comeback, and I appreciate how subtle this embossed gold version is. At Neiman Marcus for $1,995.
5. See by Chloé Bluebell Leather Shoulder Bag
: Supple grained leather, in an equally soft color, will keep its shape, thanks to a strongly stitched panel surrounding the zipper closure. At Neiman Marcus for $495.