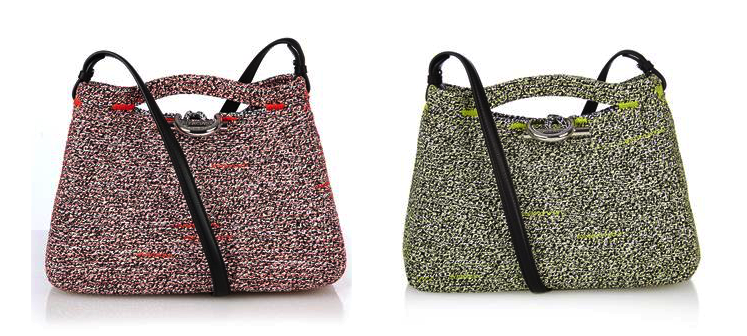 As groundbreaking as it is likely to remind you of your favorite sweater, I have mixed feelings about Alexander Wang's latest release for Balenciaga. I am more in love with the innovation behind the hefty woven cotton-knit fabric than I am with the reality of this perfectly-shaped shoulder bag.
A black and white knit that's cast with orange zigzag stitching has novelty appeal to spare (it almost has the look of tweed) and while their new softly triangular silhouette is really fantastic as well, I'm not totally sold. The overall feel is a bit too "going to the farmers market" organic – which could be good or bad, depending on how you look at it – with an end result that's very casual and exceedingly understated. The same goes for the green version; it still remains to project itself as an elevated look. I think if the bag came in yet another color option that's not so "sweater-esque," it would make a world of difference. Until then, I'll just appreciate these zigzags from a distance. Balenciaga bag in orange
or green
on MATCHESFASHION.com for $1,115.
Wear with: Bring this so-called sweater into spring with Ancient Greek's Kori lace-up sandals. The gladiator flat is back with a vengeance. On NET-A-PORTER
for $580.