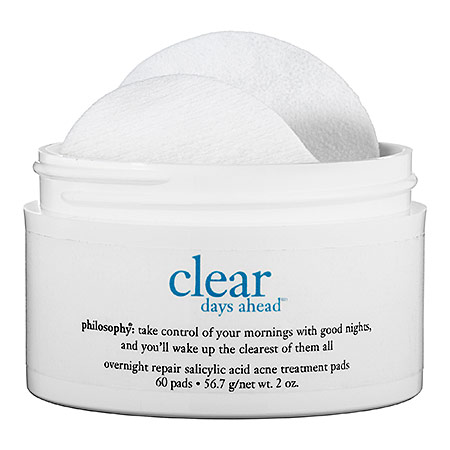 Ever notice that you're more likely to break out at certain times of the month or at certain temperatures? I have and have always wondered whether I should be treating my breakouts the same in the dead of summer as I am in the middle of winter. Also should that treatment be the same for me as it is for a guy? Can you combine different actives, or is it better to stick with one? So many questions! Now, finally, after speaking with Robin White of philosophy, a brand that makes some of the best acne treatment and prevention products, I have some answers!
Are acne triggers different for men and women?
The general cause of acne is a change in hormones, specifically a rise in androgen. This causes oil glands to enlarge and produce more oil which can in turn lead to clogging and pimples. This is true for men or women. In addition, acne can be triggered by stress, heat and humidity, oily hair, and pimple squeezing. For women in specific, acne can also be affected by menstrual cycle and some makeups. For men, shaving can cause additional breakouts as ingrown hairs are also a culprit.
When it comes to preventing acne should our approach be different as the seasons change?
The same guidelines apply regardless of the season, however, you might need to make a few tweaks.
o   Keep your face clean: Use a gentle but effective cleanser twice a day, and make sure to remove all makeup. Don't scrub as that can aggravate acne. In the winter, use something creamier for added comfort.
o   Include regular, gentle exfoliation: But skip granular scrubs as they can cause irritation and spread acne's bacteria (Did you know acne has its very own bacteria that lives in the pores and feeds on sebum?).
o   Make sure to moisturize: Moisture and hydration are different than the oil or sebum that contributes to breakouts. In the summer, look for lighter weight, oil-free formulas.
o   Incorporate acne treatments into your regular routine regardless of season: Use salicylic acid, retinoid, etc. to prevent eruptions.
o   Protect your skin in the sun, even in the winter, but particularly in the summer: It's a myth that the sun's rays will "dry out" pimples. Worse yet, they could actually increase inflammation or leave a trail of uneven pigmentation in the wake of a healing pimple.
Which products do you recommend looking for when it comes to prevention and also treatment?
Get a cleanser that effectively melts makeup, dissolves oils, and lifts dirt and debris; purity made simple one-step facial cleanser
(at Sephora for $24) would be ideal. Something with salicylic acid will also help to gently exfoliate which can help prevent clogging like clear days ahead oil-free salicylic acid acne treatment cleanser
(at Sephora for $22).
o   Include salicylic acid in your daily treatment routine.
o   At night, incorporate a retinoid treatment to keep pores clean and clear.
o   Help me retinol night treatment
(at Nordstrom for $34.30, from $49) has a patented micro-sponge system for gradual retinol release that helps clear pores and even pigment.
o   Add a weekly peel like the in-home oxygen peel (on dermstore.com for $59) that brightens and rejuvenates dull skin, and detoxifies to help clear congested, blocked pores.
What are the most effective actives? Can you use products formulated with different actives together, or is it better to stick to one (i.e. one with sulfur and one with salicylic acid)?
o   Use a retinoid every night. This will help to proliferate cell turnover and prevent clogging. Over time, it can also help to diminish the size of pores so less sebum accumulates and fewer pustules form.
o   Salicylic acid, a beta-hydroxy acid, helps to reduce the "shedding" of dead skins cells along the pore walls which prevents accumulation and clogging.
o   Azelaic Acid is another exfoliator that also helps strengthen cells that line the pores and can help reduce bacteria growth. It's great at reducing inflammation which can lead to post-acne scarring.
o   While there are some treatments available that combine actives, they have the potential to be too strong, and could cause irritation. Layering treatments and adding them separately to morning or evening routines is the kinder, gentler approach.