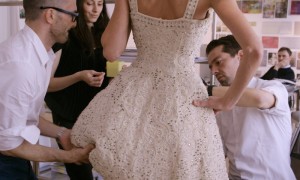 Get the latest in fashion news here…
Frédéric Tcheng, director of the film Dior & I, chats with The Guardian about what he learned working with the fashion house.
Style.com has outfit ideas (that involve turtlenecks!) for the eagerly anticipated winter-to-spring wardrobe transition.
The Man Repeller serves as our beauty inspiration of the day by making an enticing case for hair extensions.
Fringe is in: The Coveteur has the rundown on how to rock it.
Lyst wants you to treat yo self for getting through the winter by splurging on these must-have spring pieces.
Photo Credit: Dior and I