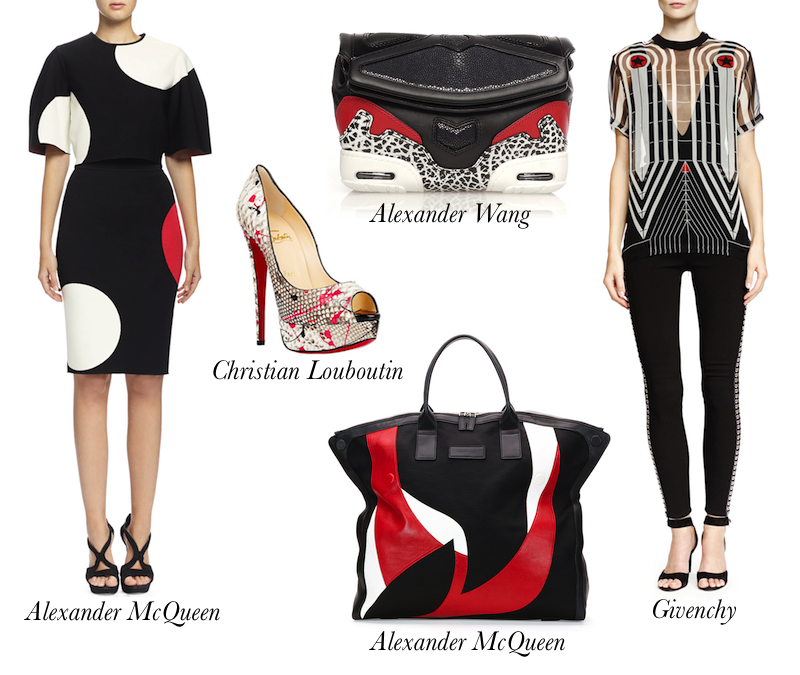 This old riddle comes into play when checking out the current trend that takes black and white to whole new heights. The answer to this age-old joke is, of course, the newspaper (as in, read all over), and I definitely consider this trend newsworthy. If Wang, McQueen, Louboutin, and Givenchy are doing it, it really doesn't matter who isn't. The fact is: you must get on it and for good reason, not just for the sake of keeping up with the trends. This color combo makes for a big, bold look that stands alone, so whether it's a dress, a bag or shoe, it's all you need to make a sudden statement.
1. Alexander McQueen Short-Sleeve Maxi-Dot Crop Top & Knit Pencil Skirt:
McQueen is carrying the color trio over to a new season in a big way, and this two-piece dress puts a genius new spin on the classic polka dot. Crop top, $1,335 (expect shipping by April 13th), and pencil skirt, $995, at Neiman Marcus.
2. Alexander Wang Stingray Colorblock Sneaker Clutch Bag:
Calling all sneaker heads! Add a kick-inspired motif and panels of stingray to a colorblocked clutch and you have some serious impact. At Neiman Marcus for $1,295.
3. Givenchy Line Target-Print Organza Tee:
A sheer top will always turn heads, so when Riccardo Tisci executes it with a wickedly graphic print, you've got a showstopper. Pair it with Givenchy's grommet-striped trousers ($3,990). At Neiman Marcus for $1,500.
4. Christian Louboutin Lady Peep Platform Pumps: What happens when Monsieur Louboutin splashes red paint on his python Lady Peep pumps? You get a peep-toe platform that will make headlines. At Barneys New York for $1,575.
5. Alexander McQueen Men's Large Combo De-Manta Tote Bag:
Or opt for a fiercely modern update on the everyday tote. I love a men's bag for women every now and then, and this playful print turns up the heat. At Neiman Marcus for $1,695.