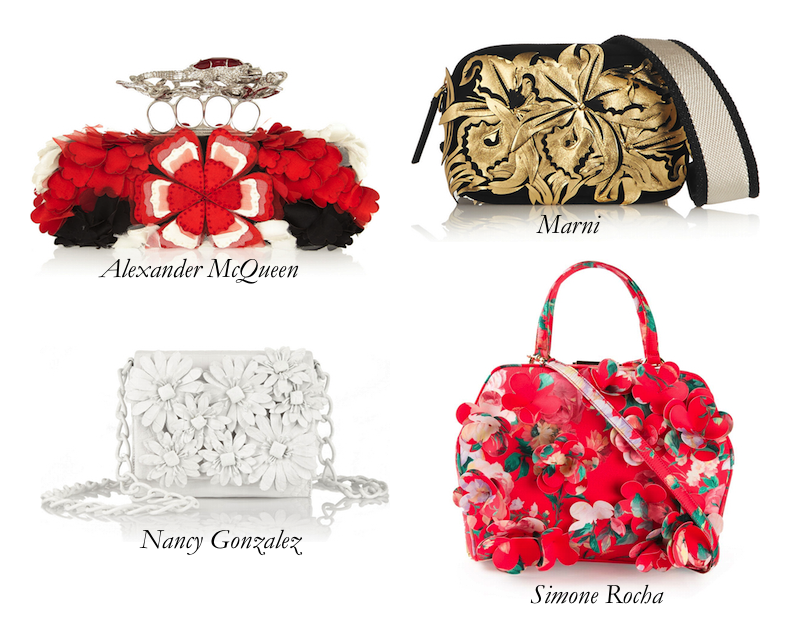 There is nothing better than the annual spring bloom. You know what I mean: that first sunny day when you look around and see colorful blossoms have sprung and the foliage is suddenly verdant again. This year, the most precious petals arrive in the form of appliqués on beautiful bags, which is better because these will never wilt. Instead, the love of these flings will flourish for many seasons to come. Sure, you'll pack them away for winter, but come the start of spring, you won't want to wait to take these out.
1. Alexander McQueen Salamander Knuckle Embroidered Box Clutch:
This just might be the most romantic take on the McQueen knuckleduster yet. An explosive satin bouquet gets topped with – surprise! – a crystal-coated salamander. On NET-A-PORTER for $3,795.
2. Marni Leather-Appliquéd Suede Shoulder Bag:
Who says the best nosegay (and yes, I'm going old-school with my garden terminology) has to boast a rainbow of colors? Go for the gold with this evening bag, topped with a detachable woven strap for a casual twist. On NET-A-PORTER for $1,540.
3. Nancy Gonzalez Floral-Appliquéd Crocodile Shoulder Bag:
On a similar note, all-white can be festively romantic, especially when each blossom has been hand-stitched to enduring perfection. On NET-A-PORTER for $2,850.
4. Simone Rocha Mad Flower Tote:
Then again, it's fun to get your floral fix with a great burst of color. Clever as ever, Rocha gives us a double dose of pretty flowers here. On Farfetch for $1,537.82.