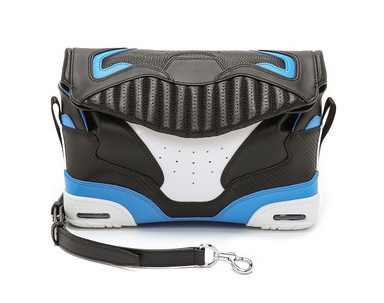 If you told me there's a great bag that looks like a pair of sneakers (or two pairs of sneakers, actually), I would seriously question your judgment. But then if you told me it was, of course, by Alexander Wang, I would reconsider. That's why we love Alex: he continuously challenges us with fantastic fashion paradoxes. Dichotomies don't just serve for shock value; they make us rethink what we want to wear.
It doesn't instantly register as an outright homage to sporty footwear but requires you to take a closer look. Of course, the cleverness is all in the styling and colorblocking, a smart usage of techno textures and great colors, which combine to make the seemingly impossible work in harmony.
So interesting and out-there yet not at all: the Sneaker shoulder bag is totally usable, in no way reading like a kooky, strange novelty bag tucked at your side. It's just textures, lines, and colors that add up to fierce visual intrigue. Alexander Wang Sneaker bag on Shopbop for $1,395.
Wear with: Avoid going over-the-top athletic, and counter this bag with something sleek, like 3.1 Phillip Lim's perfectly clean satin and silk chiffon top. On My Theresa
for $522.