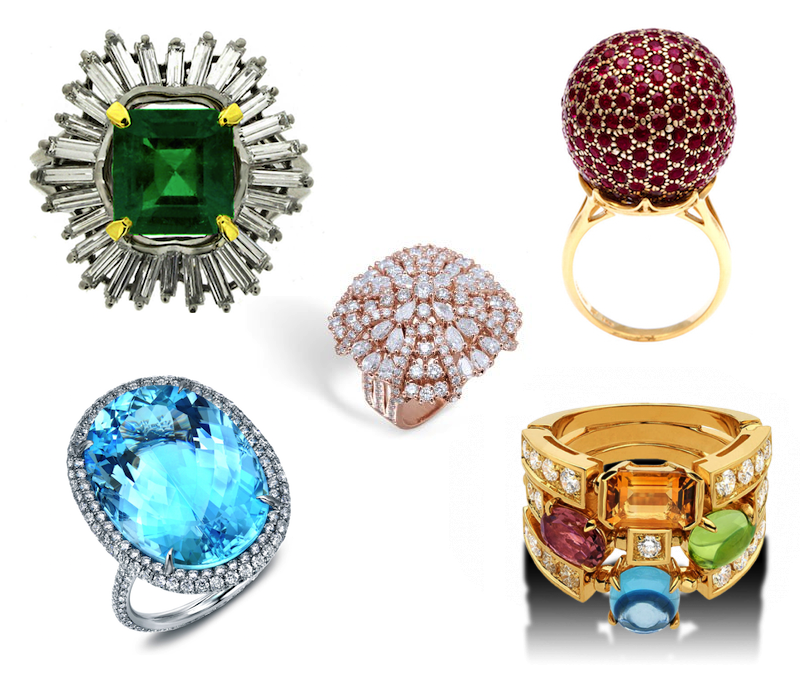 While I am not opposed to making an event about the grandeur of your hat, I would much prefer it to laud the jaw-dropping response to a cocktail ring. Instagram feeds would buzz with photos of people ogling your gems instead of getting hidden behind feathers and birds' nests perched in your hair; Twitter would sparkle with mentions of the small country you are managing to bicep curl with each demure sip of your champagne.
Though the derby is legendary for its fashion feats and faux pas, I would be hard pressed to say I am not more excited about the resurgence of the mint julep. This could be due to a bartending stint in a bourbon bar, but in all honesty, classics never die (Hello! Hermès Kelly bag?). I am not alone in judging most American holidays by the cocktails that typically accompany them, am I?
So whether your style requires a large emerald with an aura of pure diamonds to bring out the sprig of mint in your julep or a fancy pink diamond to help hold up your rosè, I have you covered. Alas, the historical nature of derby hats cannot be disturbed but at least attempt to rock the boat this year with one of these stunning cocktail rings.
Emerald: This 2.6 carat emerald surrounded with 28 diamond baguettes made between 1960 and 1968 by Boucheron would definitely draw eyes to your julep. On 1stdibs for $43,358.15.
Ruby: With no less than 246 rubies, this could be the perfect cherry to drop in your old fashioned (my favorite with Elijah Craig 12 yr, a slice of orange, a dash of bitters, and hold the soda please). On 1stdibs for $7,000.
Aquamarine: This little swimming pool is 22.2 carats of pure aquamarine joy. Its brilliance is not to be competed with so I would pair it with a freshly-shaken, sugar-rimmed Sidecar. The contrast between the subtle orange of the drink and the shock of blue will captivate even the people there to actually watch the race…On 1stdibs for $29,000.
Diamonds: If you're the type that wishes Communion could be Chardonnay, this is the baby for you. A rose gold confection of 163 diamonds in a lace-like ring by Farah Khan Ali could add a little sparkle to your steady standby. On Farah Khan Ali for $5,055.40.
A Little Bit of Everything: For those of you that never learned your lesson about trying all the cocktails on the list, this beauty is for you. An 18kt yellow gold band sporting a pink tourmaline, peridot, citrine quartz and a blue topaz is finished with pavé diamonds and hopefully a hangover that lasts only one day. At Bulgari for $10,300.
Julia Hagen is currently a student at the Gemological Institute of America. Her love for jewelry started with a red bead bracelet she received as a birthday gift from her grandfather around the age of five. Other healthy addictions include shoes, Crossfit, photography and researching jewelry arts.