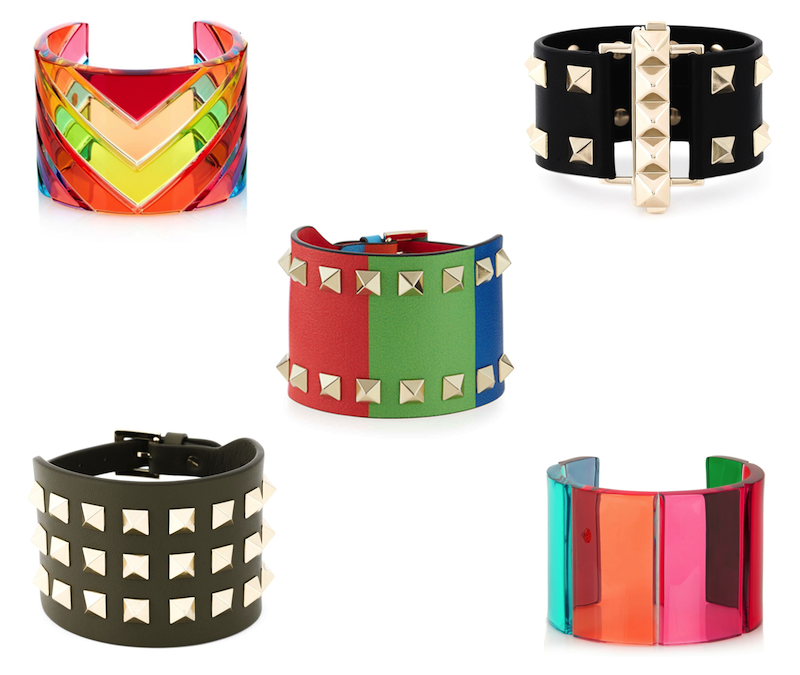 Whether you're a plexi kind of girl or leather, look no further! Valentino has you covered – or cuffed, really. This is the easiest way to update your summer wardrobe without spending a fortune. Just throw one on, and every outfit will seem new…
1973 Plexiglass Cuff:
This chevron design looks like a beautiful piece of hard candy. Get it now; the 1973 collection is flying off the shelves! On Lane Crawford for $550.
Rockstud Cuff:
A studded leather cuff may not exactly be a new concept, but it certainly feels that way with this luxe Rockstud clasp. On Farfetch for $395.
Wide Striped Rockstud Cuff:
If you like your bracelets with a little more adjustability than plexi, go with leather. This bracelet is just as colorful as its counterpart, and even offers a sprinkling of Rockstuds. At Neiman Marcus for $395.
Rockstud Cuff:
 Though an army green cuff doesn't exactly scream summer, its neutral hue promises wearability with essentially everything, a great feature if you're the kind of person who keeps her signature jewelry on all the time. On Farfetch for $375.
Plexiglass Cuff:
The best way to add color to a classic white sundress! On NET-A-PORTER for $645.