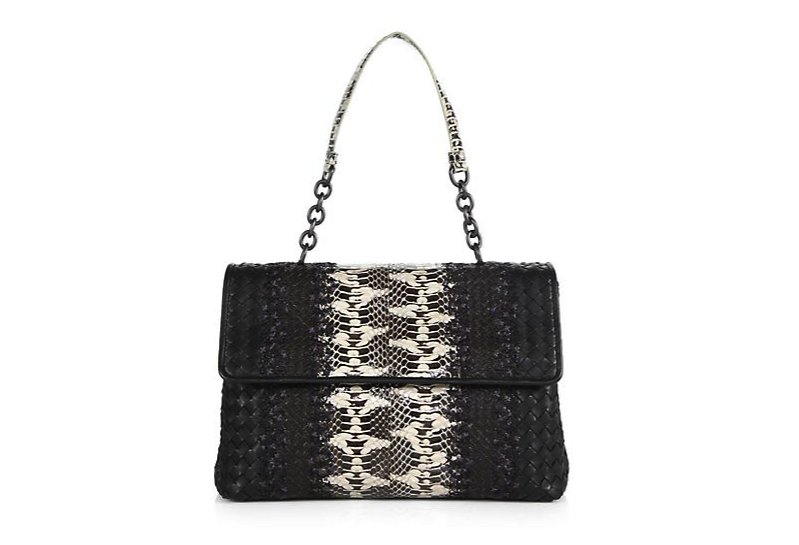 Bottega Veneta has done it again. This is such a special and truly unique bag that represents everything the house has to offer, from authoritative detailing to expert workmanship to obvious beauty. The use of intrecciato is nothing new, to say the least, but the Olimpia has something really remarkable going on: double rows of different weaves, as well as perfect, knot-style stitching nestled in between those two symmetrical portions of weave and the center panel of glossy python.
The strap is the ideal length to go over the shoulder just as easily as you can carry it as a top-handle bag, and it comes in at a nice size with an easy, open interior. Given all the artistry and craftsmanship, as well as the python involved, it's a worthy investment. Compare it to a Chanel classic flap or Boy bag, coming in at the same price but in all leather with no finery or keen details. At least none like this. I don't want to go so far as to say it's a steal, but I'm willing to bet in five years, you will be glad you picked this piece up now. Just take a look at in person; marveling at this masterpiece up-close gave me goosebumps and a rush of profuse joy. If that's not worth an investment, I don't know what is. Bottega Veneta Olimpia at Saks Fifth Avenue
for $4,350.
Wear with: They'll already be green with envy when they lay eyes on this bag. Make fellow Snobs see red with Paul Andrew's Horatio platform sandals, posing black leather against printed jacquard. On NET-A-PORTER
for $845.