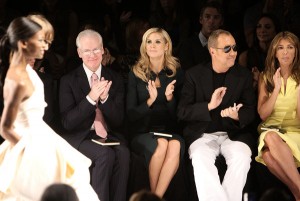 Check out the latest in fashion news here..
Project Runway gets a makeover this fall with teens as contestants and a new panel of judges. On Fashionista.
Although the resort collections won't be available until the fall, take styling cues from this season's best on Style.com.
Accessorize with the perfect scarf this summer on Who What Wear and don't forget to read about some of Tina's favorite styling tips!
Junya Watanabe's latest collection was African-themed but failed to include any black models; popular menswear blog Four Pins even argues that the Rachel Dolezal influences were too obvious to ignore. On The Cut.
See the 10 best fashion Instagrams of the week on Vogue.com.
Photo Credit: Credit Stephen Lovekin/Getty Images for IMG